It's no surprise that more drivers than ever are considering which cars are the most fuel efficient. With petrol and diesel prices at an all-time high, the cost of living on the rise, and the petrol diesel ban 2030 looming, drivers need to rethink their spending habits. It can be hard to save money running a car and there's no need to be spending more on fuel than you need to so you may be considering the most fuel-efficient cars when shopping for your next vehicle. However, you'll be pleased to know there's so much choice in the new and used car finance market for you to get your hands on. If you're struggling with your current finances as the cost-of-living increases, you could consider getting a car on finance to help spread the cost or refinance your car loan to a lower interest rate. If you're wondering which car to buy, we can finance some of the best fuel-efficient cars on our list below.
What makes a car fuel efficient?
Miles per gallon (MPG) – Miles per gallon is really important when it comes to fuel efficiency. MPG is simply how many miles the car can cover on a signal gallon of fuel. The more miles you get, the more efficient the vehicle will be.
3. Size of the vehicle – In general, if you want a car that's more economical, you usually have to pick a small, light city car with a smaller engine size. However, nowadays, with fuel efficiencies at the front of manufacturers' minds, you could even get a large 7-seater car on finance that still provides good MPG.
Top 10 most fuel-efficient cars 2022
Vauxhall Corsa
Skoda Octavia
Peugeot 208
Audi A3
Nissan Leaf
Hyundai Ioniq PHEV
Toyota Corolla
Renault Clio
Suzuki Swift
Mazda 2
Get a FREE no obligation quote
Browse 100s of used cars from FCA-approved dealers across the UK!
1. Vauxhall Corsa
Ah, the trusty Vauxhall Corsa, not only is it one of the most fuel-efficient cars around but it also makes a great first car for new drivers!  The latest Corsa can provide around 48.7mpg with the 100hp engine and 50.4mpg if you can stretch to the 130hp engine. If you want something a little eco-friendlier, the Vauxhall Corsa Electric can provide around 222 miles all on a single charge. It's also one of the most popular cars in the UK as the Vauxhall Corsa was the best-selling car of the year in 2021 and managed to knock the Ford Fiesta off its 12-year top spot too!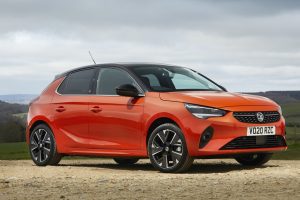 2. Skoda Octavia
The Skoda Octavia is one of those cars that can suit a whole range of drivers and it is even featured on our list of the best cars for wheelchair users and the best family cars you can buy! It's spacious, comfortable, and even comes with a fuel efficiency of 68.9mpg when you choose the 2.0 TDI SE. The Octavia is a stable choice for anyone looking for a car that can make the daily commute a breeze and handle long family road trips in the UK! Don't get us wrong it's not the smartest-looking car on our list of the most fuel-efficient cars but it will certainly deliver a great driving experience and save fuel when driving!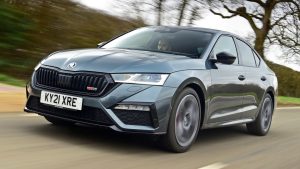 3. Peugeot 208
If you're after a wallet-friendly car that can provide a massive mpg of 71.4, the Peugeot 208 is the one for you. The Peugeot 208 received a well-needed facelift in 2019 which brought it into the 21st century. This update took the popular model from a runabout for beginners to a sharp-looking supermini. The 208 also comes packed with plenty of technology as standard so you can get more bang for your buck! It's also one of our favourite diesel cars you can get!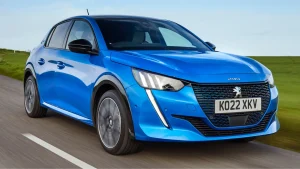 4. Audi A3
If you're after a car with good fuel economy but has a more premiums feel, we would recommend considering the Audi A3 Sportback hatchback. What's even better is the Audi A3 features on our list of the best cars you can get on finance under £250 a month. The A3 claims around 55.4mpg which can make it a great choice for many drivers. The Audi A3 oozes style and sophistication and you certainly won't be short on space. If you're worried about the cost of a newer, higher-spec Audi A3, you can check out our Audi finance deals to help spread the cost.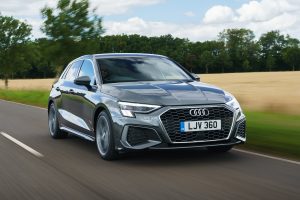 5. Nissan Leaf
No list of the most fuel-efficient cars would be complete without a nod to the electric car category and the Nissan Leaf truly is one of the best electric cars you can buy. The Nissan Leaf has been around since 2010 and it was the first electric car on the market to be mass-produced! The popularity of the Leaf is still strong today even with the endless choice of electric cars now. The Nissan leaf claims an official range of 168 miles for the standard version or takes it even further with the e+ model and 239 miles on a full charge. If you want to keep costs as low as possible, charging your EV at home can be the most cost-effective. We also think the Nissan Leaf is one of the cheapest eco-friendly cars you can buy!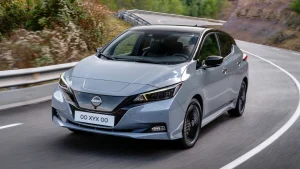 6. Hyundai Ioniq PHEV
Both the Hyundai Ioniq petrol and PHEV are impressive but when it comes to maximum fuel economy, we like the Plug-in Hybrid best! Unlike fully electric cars, PHEVs have a smaller electric motor and share their capacity with a small petrol engine. The Hyundai Ioniq can produce an electric range of 40 miles. This may not seem like much, but most day-to-day journeys will be under 40 miles which means you can benefit from all-electric driving without the high price tag! What's more, if you're buying a new or used Ioniq, you can benefit from a whopping 8-year guarantee on the battery which continues through a change of ownership!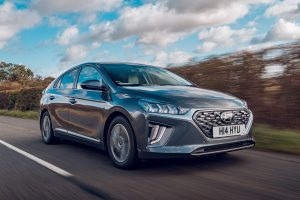 7. Toyota Corolla
The Toyota Corolla is an impressive hatchback car with low running costs. The Corolla model replaced the Auris back in 2019 and has proven to be popular ever since. It's a fashionable and affordable hybrid that is well-equipped and easy to maintain. The Touring Sports 1.8 hybrid can achieve 63.8mpg which makes it perfect for both motorway driving and city manoeuvring. Unlike the Hyundai Ioniq, it doesn't need to be plugged in and instead recharges the electric battery through regenerative braking.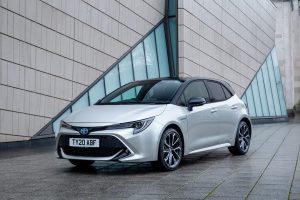 8. Renault Clio
The Renault Clio has long been a classic in the motoring world. It's well-loved for being cheap to run, reliable and hugely practical. The Clio can be perfect for new drivers or young families looking for a fuel-efficient car. It promises around 54.5mpg on average and now even comes in a hybrid version too. The Clio can also be great for low budget as you can finance a used Renault Clio for under £250 a month!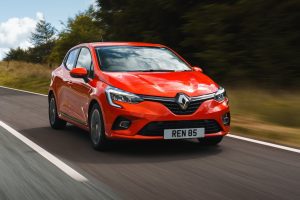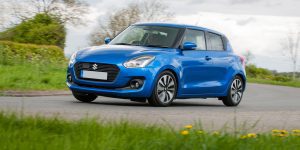 10. Mazda 2
No list of the most fuel-efficient cars would be complete without a Mazda. The stylish Mazda 2 offers 58.9mpg which makes it one of the cheapest fuel-efficient cars to run too! Mazda's now look more appealing than they used to, and the Mazda 2 brings a fun and a good look to the market. If you wanted even more, you could consider the 90bhp version that offers a whopping 60.1mpg!