When looking to the future, it seems that the automotive industry will be all about electric cars. And whilst there are so many benefits to getting an electric car, many drivers aren't yet ready to take the plunge. A hybrid car is one that combines two forms of propulsion to power the vehicle, usually a petrol engine with an electric motor and can be a great way to reduce your fuel usage and have a less harmful impact on the environment. The petrol and diesel ban 2030 has also encouraged drivers to consider their fuel type and ahead of the hybrid car ban, now could be the perfect time to invest in a more eco-friendly vehicle. So, with this in mind, we've collated a list of the top hybrid cars you can buy; from the best small hybrids to the best self-charging plug-in hybrids, we've got you covered!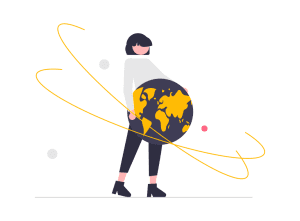 Which is the best hybrid car to buy UK?
Toyota Yaris
Kia Niro
BMW 3 Series
Volkswagen Tiguan
Honda Jazz
Skoda Octavia Estate
Volvo XC40
Volkswagen Golf GTE
Toyota Corolla
Peugeot 308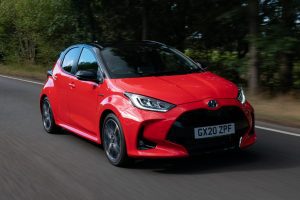 The Toyota Yaris is one of the best small hybrid cars and is perfect if you're on a budget! The Yaris combines a petrol engine with Toyota's self-charging electric motor and it's really impressive for a small car. What we like about the Yaris is that it's really versatile and can even be used as a small car for wheelchair users too! Whilst the Yaris is probably best suited to city driving it can also perform well on motorways too. The Toyota Yaris is a self-charging hybrid which means it can't solely run on electric power alone but the small electric motor gives the petrol engine a well-needed boost.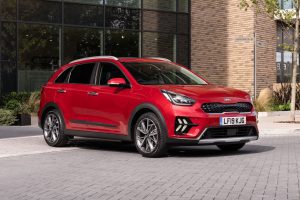 The Kia Niro is a smart and stylish hybrid car that can be great for families. it's an SUV that comes with plenty of cabin space and some impressive technology as standard. The Kia Niro is another hybrid car that's really affordable and spreading the cost with hybrid car finance can help to make it more accessible. Unlike the Toyota Yaris though, it can be offered in both self-charging and plug-in hybrid options. Plug-in hybrids tend to have larger batteries and can be used independantly. The Kia Niro offers around 40 miles of pure electric driving which will no doubt suit more than the average driver each day.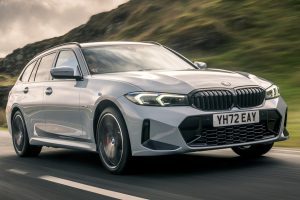 If you're after a hybrid car that's a little more upmarket, the BMW 330e could be perfect for you. Not only is it one of the best hybrid cars you can buy but it's also one of the most stylish. In typical BMW style, it's fun to drive, looks great both inside and out and has a more premium feel than other cars on our list. The plug-in hybrid is really smooth on the road and you would probably even forget that you're even driving a hybrid and you can benefit from around 35-40 miles of zero-emissions driving.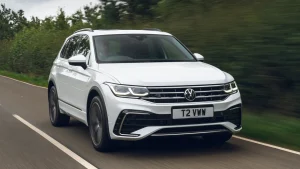 Spread the cost of getting a Volkswagen on finance with our affordable plug-in finance deals and you could be driving a Tiguan in no time! it's one of the best hybrid cars on the market and can suit a range of different drivers. With the Tiguan, you get the space and practicality of a more expensive car but without the price tag. The electric range only gets you around 30 miles but it's comfortable, well-built and has a spacious interior.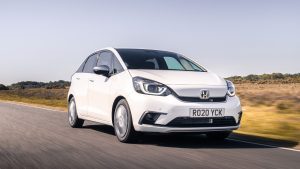 Another one of the best small hybrid cars to buy is the Honda Jazz! The Honda Jazz isn't the most exciting car to look at but it's hard to beat when it comes to passenger space and luggage. Thanks to the highly flexible rear seats, the Honda Jazz can be adapted to your needs. The full hybrid powertrain means that the electric motor is used to add extra power to the petrol engine and doesn't take up too much space inside. The seating position is high too which means you get great visibility of the road and it's easy to get in and out of.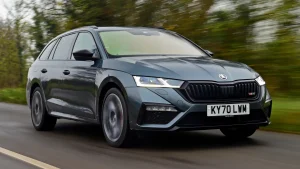 The Skoda Octavia Estate is one of the best hybrid family cars and it also makes a good car for taxi drivers too, due to its high MPG! The Skoda Octavia is available in mild-hybrid and PHEV versions which are both really impressive. The plug-in hybrid has an electric-only range of about 38 miles and the self-charging mild hybrid combines a 1.5-litre petrol engine with an electric motor. The Octavia has been loved for many years by drivers who need extra space in the back and the hybrid version is no different. Overall, it's one of the best value-for-money hybrids and you get a lot of equipment as standard. 
At Refused Car Finance, we're big fans of the Volvo XC40! Not only has it featured on our list of the best family cars to buy but it's also an impressive SUV too! Depending on what you want from your hybrid car, you can either get a self-charging hybrid or a plug-in hybrid. The PHEV then offers two different models which both have an acclaimed mileage of around 28 miles on a single charge. When using a wall box charger, it only takes around 5 hours to charge at home too, which can save you time and money when compared to some of the other models on our list of the best hybrid cars UK.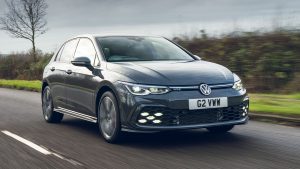 The Volkswagen Golf is certainly a car which shouldn't be overlooked. The Golf has been well-loved by drivers in the UK and usually makes the top-selling cars of the year list every year. The hybrid version is also growing in popularity too. The GTE is a fun-to-drive and sport hybrid which really packs a punch. The plug-in hybrid offers around 40 miles of electric driving and the 1.4-litre petrol engine is fast and composed. What we like about the Golf GTe is that you can benefit from low running costs, and reduce your carbon footprint whilst not scrimping on a high level of performance.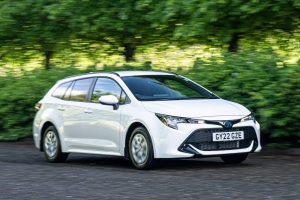 The second Toyota to feature on our list of the best hybrid cars UK is the Toyota Corolla. It's a bigger and more stylish version of the Yaris and also comes with two self-charging hybrids to choose from. The Corolla has amazingly high MPG and is one of the most fuel-efficient cars you can buy! What's more, is that it doesn't just come in the form of a hatchback but it is also offered as a Sport Estate and there's a van option too! If you're also looking to get a Corolla from new, there's a 2023 facelift which brings a seriously impressive fifth-generation hybrid system.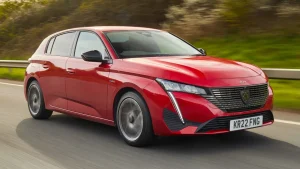 The all-new Peugeot 308 hybrid is a smart and capable family hatchback. Peugeot has taken the well-loved petrol 308 and added a plug-in hybrid option for the first time. You get all the fun of driving a combustion-powered 308 with the added benefit of 27 miles of electric driving. The new version was only released in 20202, so there are limited options on the used car finance market. However, it's not the most expensive hybrid car on our list and won't set you back too much!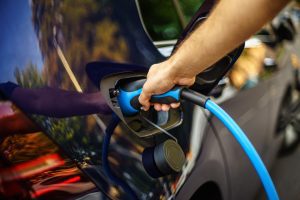 Best electric cars to buy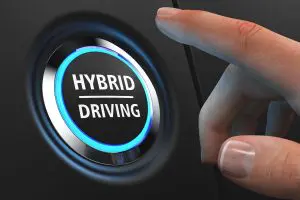 Why should you buy a hybrid car?