Buying and running a car is expensive for anyone, but for new drivers, the cost can be staggering. Finding ways to keep the cost of having a car down becomes a priority, especially for younger drivers getting car finance. We've got some tips on what you need to think about when choosing your first car, plus some models that we think would make a great first car. Let's take a look at the best cars for new drivers.
Our top picks of the best cars for new drivers 2022: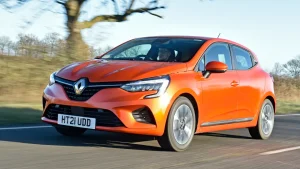 1. Renault Clio
The Renault Clio is a great choice if you're considering buying a new car; it's cheap to run, easy to drive and has a wide range of personalization options. The light steering and good visibility make it an easy, comfortable car to drive.
It has low running costs in terms of fuel and road tax. The 1.2-litre entry-level petrol engine is one of the smallest and doesn't offer much in terms of performance, but it is cheap to fill up!
The Clio sits in low insurance groups depending on the spec you choose, which is a little higher than some others on this list. The entry-level Expressions trim is a good choice for new drivers. It also features on our list of the most fuel-efficient cars too!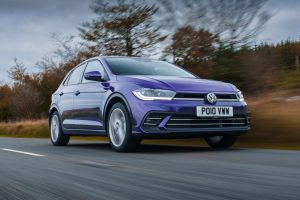 2. Volkswagen Polo
Ok, so when you think of Polo you might also think 'sensible' and 'boring', however, the new, sixth-generation Polo looks almost like a Golf, with a much sportier look and feel to it.
Volkswagen is known for creating quality cars and the Polo is no exception. It looks great from the outside and the cabin is really nice. Opt for the 1.0-litre petrol for a really economical car with low running costs. 
Insuring a Polo is also cheap with it falling into low groups depending on the spec and model you choose, making it ideal for new drivers. Also, due to its reasonable price tag getting a used VW on finance is really simple too.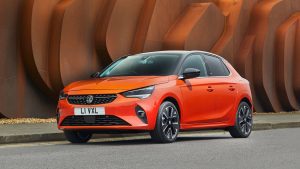 3. Vauxhall Corsa
One of the most popular cars amongst the younger demographic and best cars for new drivers is the Vauxhall Corsa, one of the UK's top sellers for the best part of two decades.
The Corsa has a decent 1.0-litre petrol engine which is cheap to run and the size of it makes it perfect for new drivers. The Corsa starts in insurance group 2 and works its way up into the teen groups the more powerful engine you opt for.
There are tons of them which means if you need a part repaired or replaced there's an abundance of them, so it won't cost you a fortune. The high volume of these cars also means finding a great deal when buying one secondhand is really easy. Find out more about buying a used Vauxhall.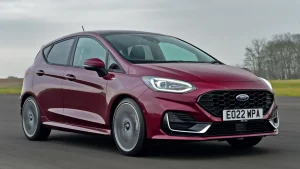 4. Ford Fiesta
One of the UK's favourite cars, the Ford Fiesta would actually be a good choice for a new driver. It's not expensive to buy, it's easy to drive and has a decent amount of equipment inside.
It has light steering and the gearbox is smooth and accurate to use making it perfect for less experienced drivers. The newest version of the Fiesta was released in February 2022 and is actually longer and wider than previous models which could be a little tricky for new drivers, but overall it's still a small car with good visibility.
Interested? Find out more about used Ford finance.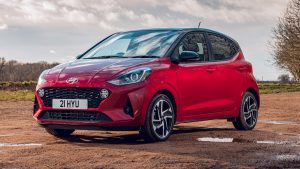 5. Hyundai i10
For a long time, the Hyundai wasn't the most stylish car in the world but the 2020 version was a real turning point. It's efficient, costs very little to buy and comes with a really great 5-year warranty. 
The Hyundai i10 makes a great city car and is one of the best cars for new drivers that we could find. The i10 is a 4-seater car which provides more space than some of the cars on our list. It's also incredibly comfortable which makes it a great all-rounder! 
The cheapest version is the 1.0 MPi SE 5dr which starts from around £12,547 or you could finance a used Hyundai to help keep costs low.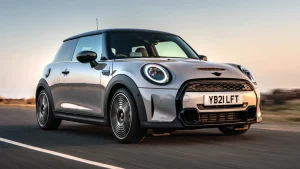 6. Mini Hatch
For many drivers, the mini hatch is an icon and it's still going strong today. The Mini hatch is a highly desirable car amongst new and first-time drivers. The latest version of the Mini hatch brings a modern twist on the old classic. It comes with some great technology as standard and if your budget allows it, the higher spec models are really impressive.
Mini hatch drivers can benefit from low running costs and an exciting driving experience. When out on the road, the Mini Hatch is nippy and responsive. In terms of space, it is one of the smaller cars on our list but if you're looking for a runabout for yourself rather than a small family car, then it could be perfect!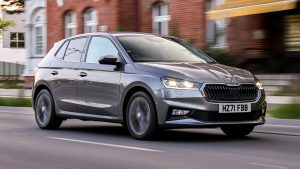 7. Skoda Fabia
The Skoda Fabia had a facelift in 2018 which brought the model into the 21st century. It's similar to the likes of the Ford Fiesta in terms of looks and practicality and also has a good price tag. The Skoda brand boasts itself on its' simply clever' philosophy and the Fabia is exactly that.
Its been designed with the driver in mind and comes with a load of impressive features such as the holster for media devices, luggage hooks and a flexible boot floor. 
Even the 1.0 litre engine is punchy and provides a comfortable ride for all involved. Check out our Skoda car finance deals for more.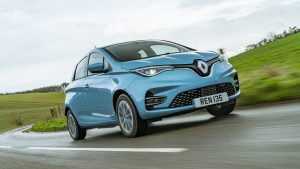 8. Renault Zoe
If you're after something more eco-friendly for your first car, the Renault Zoe could be a great choice. It's a reliable electric car that won't break the bank either. For a small electric car, it has an impressive range of 200 miles and a punchy, comfortable ride. You can also spread the cost with electric car finance too.
The Renault Zoe costs less to buy than other rival EVs in the small car category and comes with loads of equipment as standard. You can also get a free mounted 7kWh charger installed at your home when you choose to buy a Zoe from new. If you want to keep costs low, the Renault Zoe has been around since 2013 so there'll be more than enough choice on the used car finance market.
It was recently announced that the Renault Zoe will be discontinued between 2023/24 so if you're after a brand new model, you'll have to be quick!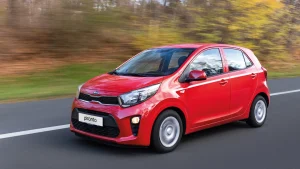 9. Kia Picanto
The Kia Picanto is one of the best cars for new drivers thanks to its low running costs, nippy engine and stylish interior. The latest Picanto was revised in 2020 and brought a more modern and sporty feel to the model. The infotainment also had a facelift recently and now features Apple Car Play and Android connectivity as standard.
When it comes to ownership, Kia often scores highly in customer satisfaction surveys, with owners enjoying their cars and ownership being painless. For that added peace of mind, all Kia models come with a massive 7-year warranty!
Unfortunately with the Picanto, there's only one engine to choose from which is a 1.0-litre 3cyl engine but a number of different trims to take advantage of. Find out more about financing a used Kia Picanto.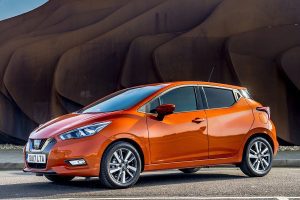 10. Nissan Micra
In the world of small cars, the Nissan Micra has been a for,m favour for nearly four decades! The latest version of the Nissan Micra was a massive improvement on pretty much everything. The exterior styling is now more modern and slick with a sportier feel. The previous version had a 'bubble' body shape which was seemingly more feminine than the new model. Now, the Nissan Micra can appeal to a range of different drivers.
Just like the Kia Picanto above, the Micra only comes in one engine option and simple trim levels. Any trim you choose comes with a good level of equipment and features such as autonomous emergency braking, lane-keeping assistance and auto-dipping headlights.