Why have I been refused car finance?
You've been refused car finance and you're left wondering why! You're at the right place, we'll give you the most probable reasons you just got declined and which steps you can take next in your journey to avoid being declined car finance in the future.
There's still hope! Just because you've been rejected car finance, it doesn't mean that it is impossible to get a car finance policy. Each provider has its own criteria and just because you don't meet one companies requirements doesn't mean you won't meet another.
We help people who have been refused car finance get approved!
We work harder than anyone else to get you the approval you need.
Reasons you may have been refused car finance:
There are a few reasons car finance applications get declined, we've put together the top reasons most people find they have been turned down for car finance.
1. Affordability
The biggest reason you've been refused car finance is due to concerns over your affordability. As part of being a responsible lender, all car finance providers must ensure they have taken the correct steps to ensure you can afford to make the repayments on the finance package. If they don't believe you can then they will decline your application.
If you're sure your affordability is strong and you have bank statements that can validate this, then you may have been declined for one of the reasons below.
Related – Does being declined car finance affect your credit score?
2. Bad Credit
One of the most obvious reasons for a car finance application being declined is due to a bad credit score. If you have County Court Judgements (CCJ's) or have missed credit repayments then this will affect your credit score in a negative way. Missed payments will remain on your credit report for 3 years and any CCJs or Bankruptcy will remain on your credit file for at least 6 years.
If you have applied for car finance with a provider that doesn't specialise in bad credit car finance then you're likely to not be matched up with suitable lenders. As a result, you'll almost certainly feel the sting of being refused finance for a car. It can be tempting to go for the car finance provider with the lowest interest rate, but this only works if you know you won't be declined. If you are aware your credit is less than perfect you don't want to waste your time with prime lenders as this will only lead to you being turned down and make it even harder to get approved further down the line.
Related – Increase chances of being approved for car finance
Dan was absolutely amazing! I have bad credit and was refused elsewhere. Dan talked me through everything was so helpful and funny. I would recommend him to anyone!
3. Good Credit Rating But Refused Loan
If you have been a good credit rating but have been refused car finance then it is likely because of one of the following reasons:
Too many searches on your credit file
Each time a lender performs a credit check, a footprint will be left. Too many of these mean that lenders will assume you can't manage your money well if you are constantly applying for credit. This is a big problem when it comes to applying for car finance as people want to get the best rate they can which leads to applying at a lot of different providers at once. Although this is tempting please avoid doing so as it's one of the top reasons for car finance to be declined.
You don't meet the car finance qualifying criteria
This can be a surprising one for people who appear to have good or reasonable credit and are in full-time employment but the unfortunate truth is that lenders are looking for a unique type of person based on various 'borrower profiles' they have when screening applicants before providing them with finance or credit. If you don't fit the criteria they are looking for, then you can see your car finance rejected. 
4. Employment status
Firstly, it's a myth that you can't get car finance on benefits, however, if you don't go to the right provider you will find it much more difficult to be approved. There are no car loan job requirements but it's true that you might find it more difficult if you are unemployed, self-employed or work part-time. As long as you can prove you can afford car finance though, then you don't need to worry. Before applying, just make sure you have all of the relevant documents which are typically things like bank statements, proof of income and address history.
5. No full driving licence
If you only hold a provisional licence, but you want to sort out your car finance before you pass your test, unfortunately, you will find it more difficult to be accepted. There are a few lenders who will provide finance but many of them will suggest a joint application with someone who holds a full licence. We do tend to recommend waiting until you pass your test as this doesn't only reduce your chances of being rejected for car finance but also opens up more options giving you a better chance of getting a better interest rate!
6. Not on the Electoral Register
If you aren't registered to vote, your credit rating will be affected. This might sound odd, but it helps lenders determine your identity and trace your address. By registering on the electoral register you make this information accessible to lenders who can use it to determine your suitability. It's just a small thing but if a lender can't find you then it's a popular reason to be declined car finance.
Absolutely amazing tried everywhere else, but no joy. I then try this place thought to give it a go and got a no guarantor loan within a couple of days, that fast, that good.
Would recommend to anyone serious about getting a loan and trying to build their credit report for the future.
A+ 5 star service, they totally surprised me at how well this all went, thanks to Dan and the guys at refused car finance.
7. No history of borrowing
It can come as a surprise to people who haven't taken out credit before that they often get declined. After all, if you've never needed finance before surely that is a positive sign? From a lender's point of view, no history of borrowing isn't a good thing. A credit file is essentially a report card on how likely you are to pay them back in full and on time. Without that proof, some lenders won't take the risk.
Taking out a credit card and spending a small amount on it each month is a good way of building up your credit – just make sure you can afford the repayments and pay it back in full and on time to ensure you don't hurt your credit score! Here at Refused Car Finance, we provide no credit car finance for people in this situation.
Would definitely recommend these guys and try these before anywhere else especially if your credit is poor or no credit at all, these guys look at the bigger picture rather than slamming you with high-interest rates that other companies do. Nothing more to say thank you Jacob a job well done.
8. Age
Age plays a factor in getting car finance, sometimes due to cut-offs in the lender's criteria, credit laws, or its impact on other factors.
You can't get car finance if you are under the age of 18. Although you can of course drive at 17, there are credit laws in place which permit anyone under the age of 18 from signing a credit agreement. If that is you, you could consider a joint car finance application with a parent or guardian.
You may also struggle to get car finance if you are over the age of 70 due to many lenders' criteria having an upper age cut-off. That said, this is not all lenders and we are happy to say we have some lenders on our panel who do of course still accept applicants well into retirement.
What happens if you're between 18 – 70, all good right? In theory yes, but the younger you are the less credit history you tend to have, which can play a part. Read Point 6. No history of borrowing for more information on this.
9. Credit cards
Credit cards and credit utilisation can be a big factor when it comes to credit scores. Your credit utilisation is how much of your available credit you use and it is recommended that you should use under 50% of your credit limit. For example, if your credit limit is £1000, you should only spend a maximum of £500. Also, if you have any unused credit cards or credit accounts which you have paid off, you should consider closing them. This is because potential lenders can look at how much available credit you have and if you have a lot then they may think you can't handle anymore.
Will I qualify for car finance?
To stop being refused for car finance you must meet the following criteria:
✓ At least 18 years old
✓ Have lived in the UK for a minimum of 3 years
✓ Can prove you can afford the finance
✓ Not currently bankrupt
As long as you meet those four bullet points we have car finance options for you. If you want to improve your car finance rate then improving your credit score, minimising your loan applications, having a full UK driving licence and other tips mentioned above will help you do this.
Had a bad experience with other companies who said they would be able to get me approved but then asked for different criteria and made the process very stressful and time-consuming however refused car finance made it so easy and were straight forward from the start so massive thanks!
After you have determined some possible reasons as to why you may have been declined, the next step is to look at what steps you can make to either improve your credit score or find a bad credit car finance deal. Quick fixes you can make include registering on the electoral register and paying off any outstanding credit cards where possible. If you have no credit history at all, it can be a good idea to try and get a credit card to build up your credit before applying for finance again.
If you have bad credit and your file shows missed payments, CCJ's, defaults or arrears then it isn't going to be possible to change your credit score overnight. So, presuming you want your car sooner rather than later you will most likely have to approach a bad credit car finance specialist.
We have complied a list of easy to follow tips to improve your credit rating that we recommend you taking a look at to help improve your chances of being accepted.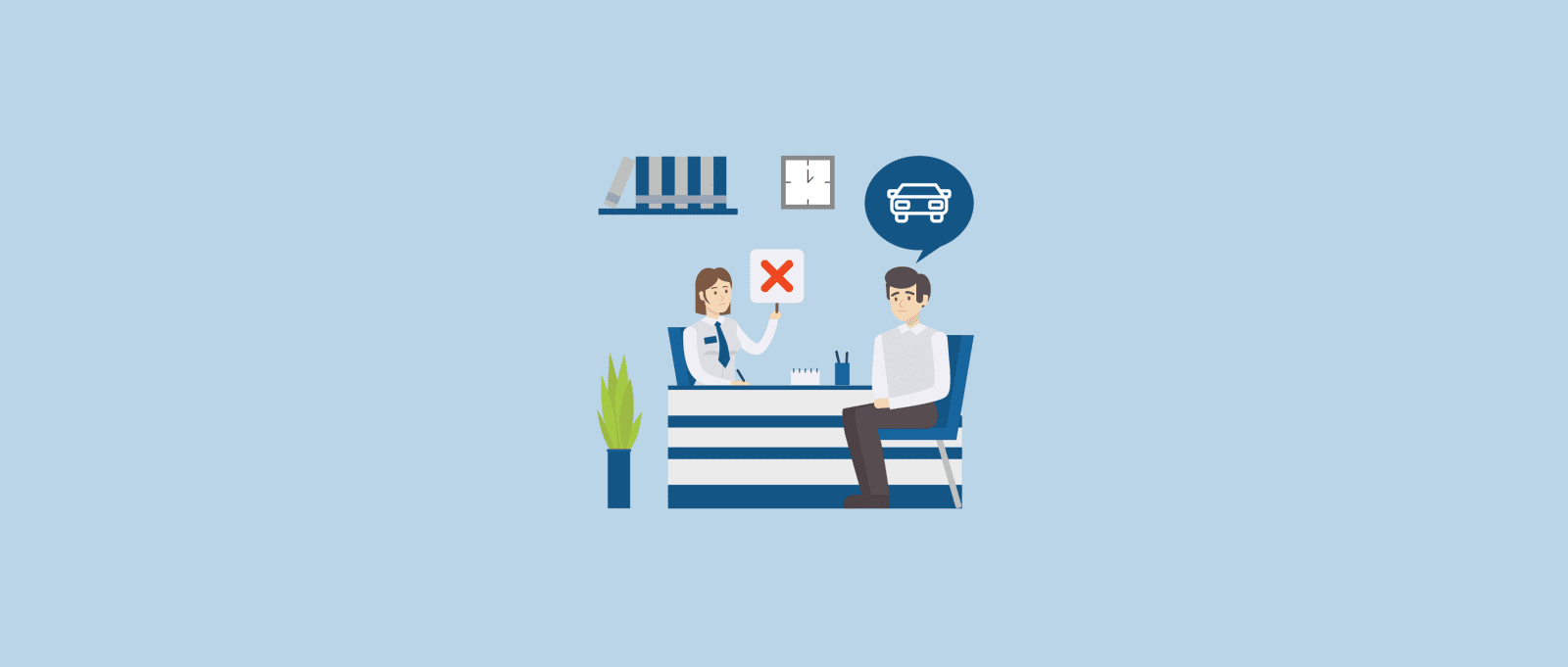 Can I still get Car Finance once you've been refused elsewhere?
Just because you have been refused car finance elsewhere, doesn't mean that that's it. Every finance lender has its own criteria and what may be a red flag for one company may not be a problem for another.
At Refused Car Finance, we arrange car finance deals for bad credit customers, using a panel of specialist lenders across the UK. We are able to send your application on to lenders where you match their criteria giving you the best chance of being approved. We work harder than anyone else to get you that 'yes'. 
It must be noted that a poor credit rating will affect your APR and monthly payments will be higher than if you had a good credit score. This is because you are seen as a higher risk to the lenders. Some companies will advertise 0% interest, or interest-free car finance for bad credit customers, however, this is not possible as the interest will be built into the cost of the car and therefore into your repayments.
Using online car finance calculators will give you an insight into your monthly repayments depending on the type of loan you would like and an idea of what to expect for your APR and monthly repayments.
You could also consider a guarantor loan if you are struggling to get approved for finance with bad credit. Having a guarantor can be really beneficial as it can be seen more favourably by lenders. A guarantor car loan is when a family member, partner, or friend agrees to meet the repayment schedule if you fail to do so. Having a guarantor can also help you to rebuild your credit score and if your financial situation changes suddenly, you have the support of your guarantor too.
Don't be refused car finance any longer
We will match you up with the most suitable car finance lender for your situation so you can get your car from a huge variety of trusted FCA approved dealerships in the country.