We make applying for car finance easy
in 3 simple steps
Let's get started
30 second application
Free safe secure 30 second application
More about our car finance
We charge no broker fees whatsoever
30 second simple application form
We have a 98.4% approval rate
Borrow from £500 to £50,000
Negative equity and balloon payments refinanced
No deposit plans available
We are proud to be authorised and regulated by the Financial Conduct Authority
As long as you are over 18, free from bankruptcy, have lived in the UK for at least 3 years and can prove you can afford a loan, we can help you!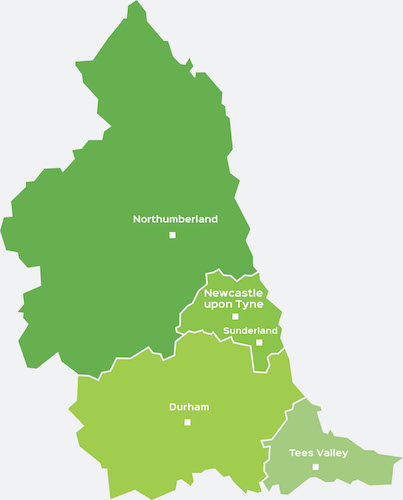 GETTING THE NORTH EAST ON THE ROAD
If you're living in the North East, let us give you a hand finding the best car finance deal for you. We're based in Newcastle and work with car dealers right across the region to ensure our customers drive away in their ideal car! We've helped thousands of customers across Tyne and Wear, Northumberland, Durham and Tees Valley with their car finance, offering 98.4% of customers a car finance deal – the best acceptance rates in the region! If you're interested in the cars our local dealer partners currently have available, just browse the current cars for sale. So whether you're looking for car finance in Newcastle, Sunderland, Middlesbrough, Ashington, Blyth or anywhere in between, we've got you covered.
Find out more about Car Finance in the North East of England.
Durham Car Finance | Car Finance Middlesbrough | Car Finance Newcastle upon Tyne | Northumberland Car Finance |  Car Finance Sunderland
Not from the North East? We can still help you too as we work with car dealers across the UK. Find out more about all the other locations we provide car finance for.

No one works harder to get you the best car finance deal!
That is why 98.4% of people applying for car credit with Refused Car Finance receive a car finance offer from one or more of our lenders! We specialise in approving the car finance applications other companies decline. Don't fret if you have been refused finance elsewhere or feel your current credit rating may work against you, we can help!
Most popular car finance services
Bad Credit Car Finance | Car Finance on Benefits | No Deposit Car Finance
It takes just 30 seconds to apply and you could be driving your vehicle away the same week.
Frequently Asked Questions
Below you'll find answers to the questions we get asked the most about applying for car finance.
Can RCF secure me guaranteed car finance ?
Whilst nobody can guarantee car finance for every customer, Refused Car Finance currently has a 98.4% acceptance rate. We are very proud that through our network of approved car dealers we are able to offer access to every single specialist car finance provider in the country, as a result, over the last 12 months we were able to offer 98.4% of our applicants a loan! We take pride in the fact that we help hundreds of customers every single month drive away without even playing a deposit! Other companies will advertise guaranteed car finance but ask for a large deposit – we will never do that.
Do I need a guarantor ?
We have over 20 lenders and this enables us to find the right lender for your personal circumstances. For example if you need car finance but can not provide a guarantor – we will only search lenders that do not require one.
Do you just provide car finance in the North East of England ?
Although we are based in Newcastle upon Tyne, we can get you car finance wherever you live in the UK. We work with car dealers up and down the country so wherever you call home, we can get you the car credit you need. Find out more about the different locations you can get a car loan with us.
Why should I apply through Refused Car Finance ?
Refused Car Finance provides car finance for those who have been declined elsewhere or are worried their credit score may mean they'll be refused a car loan in the future. With a 98.4% acceptance rate and a wide range of lenders, we are Newcastle's leading sub prime car finance broker.

Refused Car Finance are proud to be supporting our boys by becoming a partner of the Newcastle United Executive Club.