Buying a car is one of the biggest purchases you will make in your life so it's important that it's the right choice. If you're in the market for your next car or you're buying your first car, it can be hard to know how much to budget for a car and also how much your running costs will be. Unfortunately, once you've bought the car, the payments don't stop there are other costs associated with running a car. The guide below has been designed to give you an insight into budgeting for a car effectively and also how much your running costs could be. 
Budgeting for a car purchase
There are a number of ways in which you can buy a car and it can be hard to know which is right for you. However, it can all come down to budget. If you have a healthy savings account then buying a car wth cash is usually the most cost-effective way to get a new vehicle, However, many drivers don't have this kind of money to hand and instead will turn to car finance to spread the cost.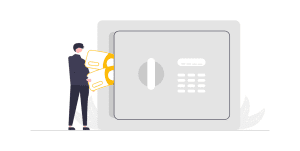 In many cases, it still runs true that cash is king and car buying is no different. When you pay for a car with cash, there are no extra fees or interest to pay, you are the legal owner of the car from day one and you can choose to modify it or sell it whenever you want. You also have more freedom when it comes to where you buy your car and can negotiate the price of a car with the dealer or private seller. The only drawback of buying with cash is the price. Brand-new cars may be out of your budget if you're paying with cash alone as they tend to be too expensive. Currently, the cheapest brand-new car in the UK is the Dacia Sandero which will set you back around £12,000! Even second-hand cars can cost thousands of pounds to buy outright and many drivers may not want to use their savings account as a budget for a car. 
Car finance is popular amongst drivers as it allows you to spread the cost of getting a car. You can make monthly payments that suit your budget over a finance term that is catered to your needs. There are a number of finance agreements to choose from and you may be better suited to one form of finance over others. Within both hire purchase and PCP car finance deals, the lender owns the car on finance until all payments have been made and the agreement has ended. It can be worth exploring different forms of car finance first to see which would best suit your circumstances. Your monthly budget for buying a car on finance can also be known as the affordability and it highlights how much you could comfortably put towards your finance each month. You can work out your budget for a car by considering your current income and expenditure and seeing how much you have left over to put towards your payments. 
Should you budget for a car finance deposit?
Your car finance budget could include a deposit if you have one to hand. There are many reasons why it's a good idea to put a deposit down at the start of a car finance agreement. It can help to lower your monthly payments and also reduce the interest rate you are offered. A higher interest rate means that you will pay more overall and can make finance more expensive than it needs to be. In some cases, a deposit contribution at the start of your agreement can help you to get approved for finance with poor credit as it means you don't have to borrow as much from the lender. If you don't have a deposit though, don't worry! There are many affordable car finance deals with no deposit needed too. 
Which factors can affect the cost of car finance?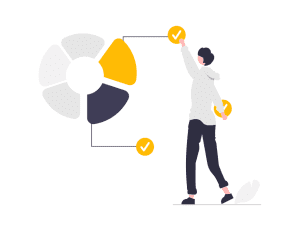 Before you can budget for a car, it can be a good idea to assess the factors that affect your car finance interest rates and finance deals. There are a number of ways in which your car finance payments are calculated and getting ahead of the game can help you save money and may even open up more money for you to put towards your finance. Factors such as your credit score, loan term length, and deposit contribution can all affect your payments. Read more about how car finance interest rates are calculated. 
How much does it cost to run a car? 
Your budget for a car isn't just about how much you will need to spend on getting a vehicle. Many drivers forget to also factor in the cost of actually running a vehicle once they own it. Continuous payments such as refuelling your vehicle or recharching an electric car will need to be met and there are legal requirements of owning a car to consider too. Let's take a look in more detail…
Refuelling or recharging your car
Depending on which fuel type you choose for your car, your fuel costs can vary. Electric cars tend to have the cheapest running costs because it costs much less to recharge an electric car at home than it does to refuel with petrol or diesel. Electric cars generally cost more to buy though and may be out of your budget for a car. If you do want to do your bit for the environment though, you could consider financing a hybrid or electric car to help spread the cost of ownership.
Petrol cars are still the most dominant fuel choice for UK drivers and it's easy to see why! They're cheap to run, cheap to buy and are much more advanced than they used to be. If you travel many miles though they may not be the most cost-effective option. Diesel cars have a lower fuel consumption and you can get more miles per gallon with a diesel car. If you're unsure, it can be a good idea to reflect on your budget and also how often you drive along with how far you drive to find a car that's fit for purpose.
Find out more – how to save fuel or extend your EVs battery.
Any vehicle in the UK that is registered needs to be taxed which is known as Vehicle Exercise Duty, road tax or car tax. Your car tax rates depend on the CO2 emissions released by the vehicle and the more emissions produced, the higher your car tax will be. It can be worth checking which tax band cars within your budget fall into to get an idea of how much you will pay a year. You can choose to pay your road tax annually or monthly and even if you are exempt from charges, you will still need to have the vehicle taxed.
Find out more about how car tax works in the UK.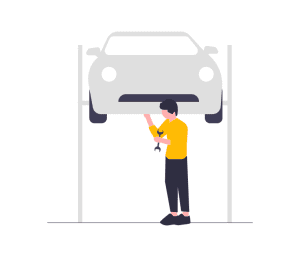 Looking after your vehicle 
Another legal requirement in the UK is that all cars must have passed an MOT test to be deemed to be road worthy. A car that is less than 3 years old, does not need an MOT but it must have one every year after its 3rd birthday. The average MOT can cost around £40-£50 once a  year and the maximum fee a garage can legally charge for a car's MOT is £54.85, with no extra VAT on top. 
Whilst having your car serviced isn't a legal requirement, it is very much recommended. An MOT is a test to see if your car is roadworthy but a car service includes a number of checks to make sure your car is in the best condition it can be. You should aim to have your car serviced once a year or every 10,000 miles, whichever comes first. Having regular car services can help to prolong the life of your vehicle and should reduce the risk of something going wrong. It's hard to pinpoint a cost for car servicing as you can choose which level of service you would like. A basic service can cost around £100 on average and a full service can set you back around £400 for a large car. 
Ready to get a car on finance?
Check your chances of approval with our soft search application and we'll be in touch with a lender decision for you!