Despite the weather in the UK, us Brits have had a long love affair since the convertible car was introduced. British drivers are more likely to drive convertibles than our fellow Europeans, despite many cities in Europe having more days of sunshine per year. It's easy to see why we love them though; there isn't anything quite like the experience of open top driving with the wind in your hair, the sun on your face (if its out!) and the thrill of driving a fast sporty car.
Fasten your seatbelt; we've got our top ten pick of convertible cars: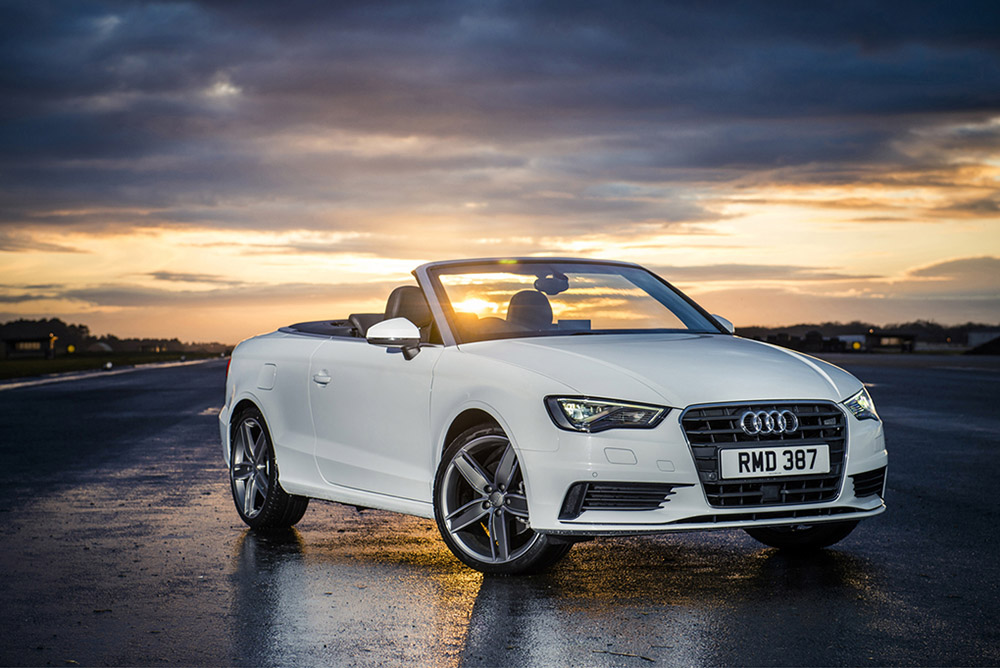 Audi A3 Cabriolet
Kicking off our top ten list is the Audi A3 Cabriolet, a two-door convertible that offers an excellent range of engines. Now in its third generation, the A3 is longer and wider than the previous model, but lighter. It handles well with the lighter weight and has precise steering.
Opt for a 1.6litre diesel engine for the lowest running costs out of the range, although all of the engines are quite good in terms of CO2 emissions. Low running costs comes at a price in terms of performance – 0-62mph takes 11.2 seconds which isn't too quick for a sports car, especially compared to some rivals.
The interior of the car is great, as expected with Audi's who are well-known for their beautiful interiors. The dashboard design and quality is superb and all models come equipped with a 5.8" display screen.
Space has increased in the newest model and the fabric folding roof definitely takes up less space than a metal one would, which means there is more boot space.  The roof can be lowered in 8 seconds at speeds of up to 31mph so you can feel that wind in your hair without the need to stop.
The Audi A3 comes with a 3 year/60,000-mile warranty which is fairly average by today's standards.
If you fancy driving an Audi this summer then let us help source you used Audi finance today.
Image credit: The Sunday Times Driving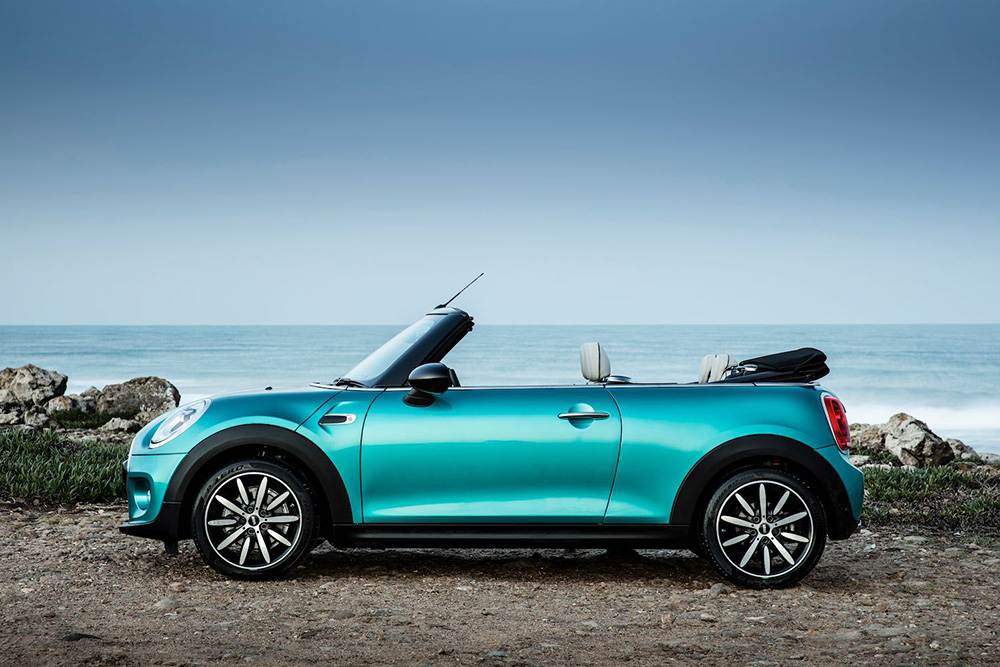 Mini Cooper Convertible
The beloved Mini is a firm favourite in Britain and is regularly featured in best-selling cars roundups. It's easy to see why; the Mini is fun, stylish and easy to drive with its smooth gear changes.
The Mini Convertible is fairly economical to run – opt for the Cooper D diesel engine for the most bang for your buck. Considering its cute shape and size the Mini is surprisingly quick, with 0-62mph done in 9.9 seconds.
The interior is quirky, with a retro inspired feel to the dashboard which matches the cute exterior perfectly. The driving position is very comfortable and it does have a sporty feel to it when you're behind the wheel with the roof down.  The Mini offers lots of customisation options, so you can really make it totally unique.
The latest version of the Mini has more space than previous models, although rear passengers will still find it a little cramped.
The Mini comes with an industry standard 3-year warranty and their servicing pack, called TLC covers up to 5 years/50,000 miles and will cover labour and repair costs.
If you want to get yourself into a quirky Mini Convertible then let us help you get your finance sorted!
Image credit: Drive.co.uk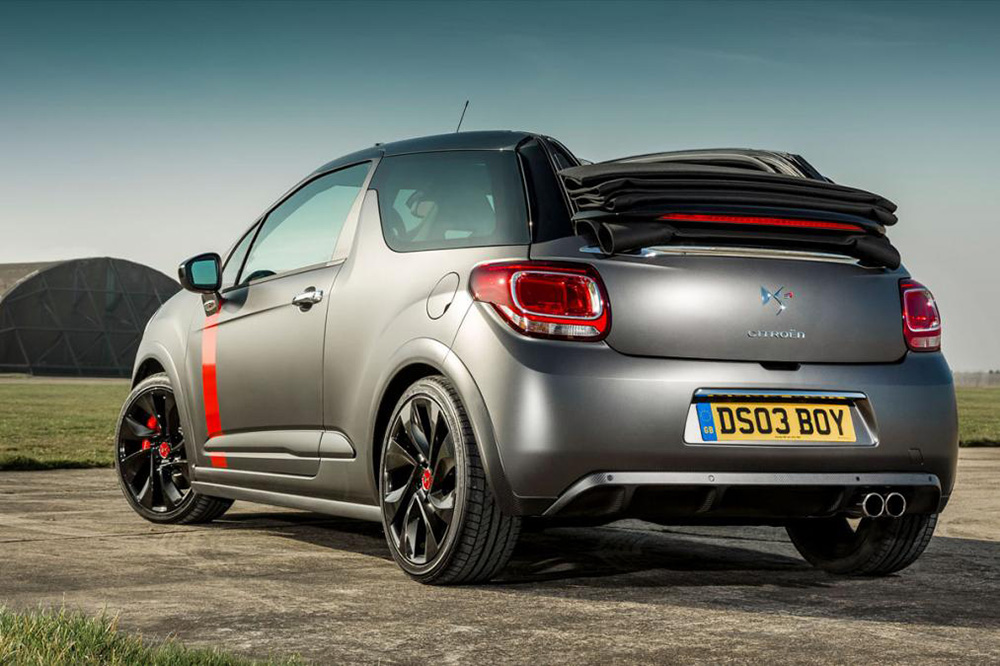 Citroen DS3 Cabrio
If you like the standard hatchback of the DS3 then you're bound to love the convertible version too. With its stylish looks and compact size, the DS3 Cabrio demonstrates that good things come in small packages perfectly. It's a nice drive and has sharp, responsive steering that is similar to the hatch DS3. Lovers of the DS3 hatchback will feel right at home behind the wheel.
The Cabrio doesn't have a complete folding drop top – instead it has a folding canvas roof and the sides of the car remain up which provides more protection from the wind. Because of this your rear view visibility is poor, however Citroen have considered this and installed rear parking sensors as standard on all DS3 Cabrio's.
The boot spaced is compromised when the roof is folded down but in terms of cabin space there is plenty for a convertible.
Citroen have worked very hard to try and improve their reputation for reliability issues oner the last few years. There are no reliability issues on the hatchback DS3 on which the Cabrio is based, so it should be a safe choice. The DS3 Cabrio comes with a standard 3-year, 60,000 mile warranty.
Fallen in love with this car? Get your finance for your Citroen DS3 now!
Image Credit: Evo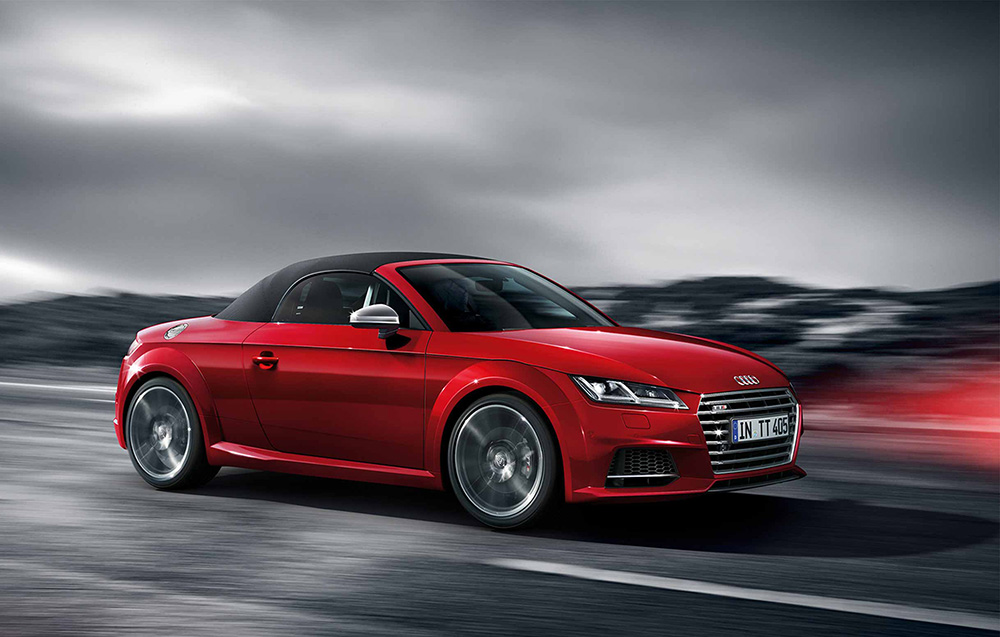 Audi TT Roadster
The second Audi on our list is the TT Roadster which is famous for its incredible looks, high quality cabin and reasonable running costs. When it was first launched in 1999, the Roadster became an iconic car very quickly and since then it hasn't changed the design (quite frankly though, it doesn't need to!) However Audi have refined the car over the years and now in its third generation it really has been perfected (Well, almost).
It doesn't weigh as much as some rivals such as the BMW Z4, which gives it that light and accurate steering. The engines are fast but efficient so the running costs are pretty reasonable for a sporty car.
You don't sit as low down in this convertible which many people may prefer and there is lots of room for adjustment to find a comfortable driving position.
The boot is smaller than the coupe, which is to be expected, and there are no rear seats but who buys a convertible for its practicality?
Image credit: Audi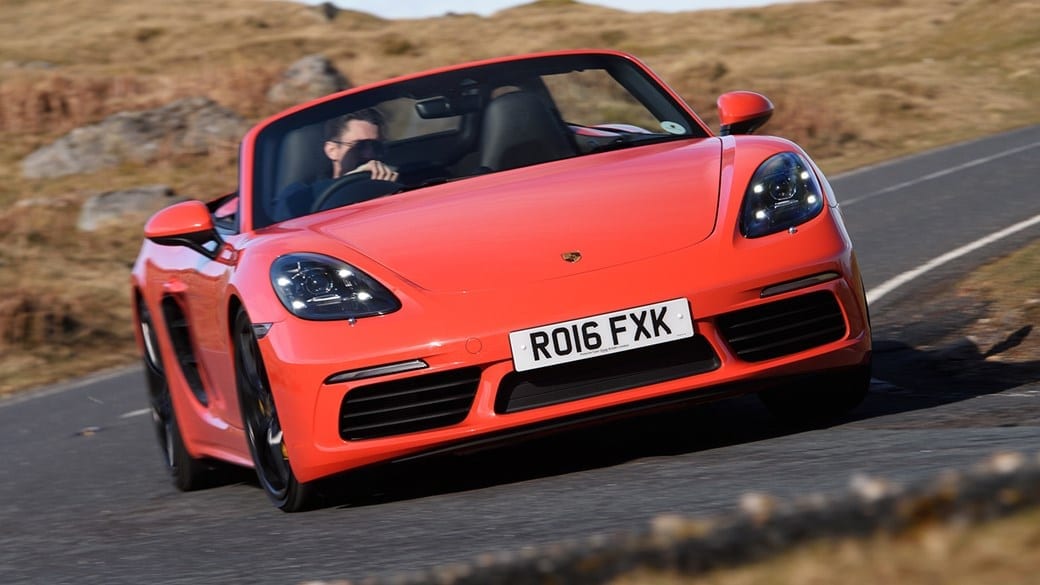 Porsche 718 Boxster
The Boxster was introduced to us 20 years ago and it still is one of the best cars out there to drive in its fourth generation. It has sharp, precise handling and really packs a punch in terms of performance, accelerating 0-62mph in just 5.1 seconds.
The interior is simply stunning and has been built with great quality materials. You have the option of upgrading the leather material and colourful trims should you fancy it. It's also relatively spacious and practical for a two-seater roadster.
One of the downsides of purchasing such an expensive car is that replacing parts and servicing it becomes very expensive. Expect to pay through the nose for things like replacing tyres and to repair brakes – but for such a beautiful car who could complain?
On the plus side, the Porsche 718 Boxster comes with a 3 year, unlimited mileage warranty with a breakdown recovery package for the same length of time.
Paint work is covered for three years and there is an anti-corrosion guarantee that runs for 12 years.
Image Credit: CarMagazine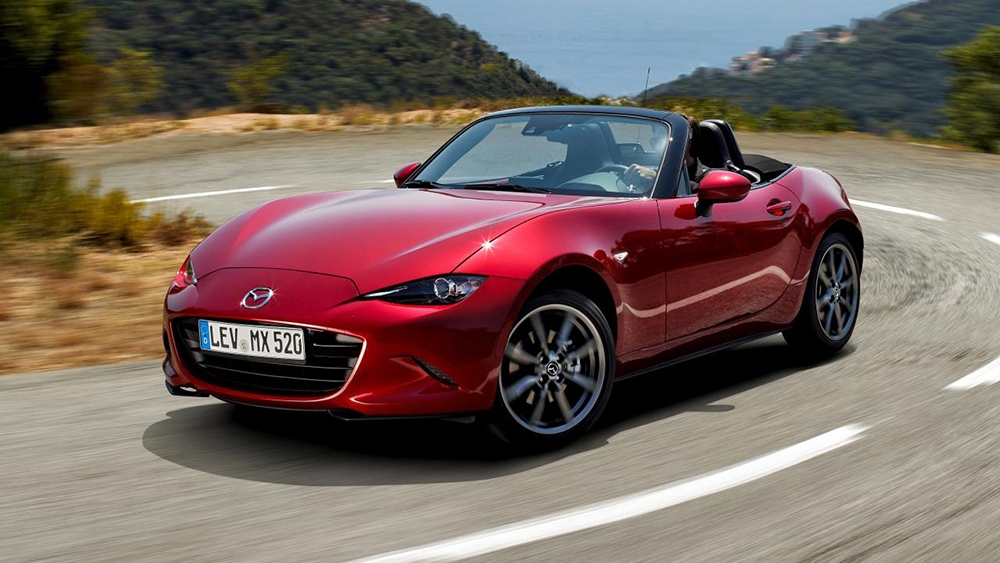 Mazda MX-5
Next on our list is the world's best-selling roadster; the Mazda MX-5. Since its launch in 1989, the Japanese brand have sold over one million of the sports cars worldwide, with over 120,000 in the UK.
Due to its light weight, the Mazda doesn't need a lot of horsepower to get it going, although it is capable of 0-62mph in 8.3 seconds with its 1.5litre engine.
In terms of costs it is expensive to insure – it falls into insurance group 26 with a 1.5 litre engine and manual gearbox however the running costs balance out this expense. With its light weight and economical engines, the MX-5 is very reasonable to run compared to most other two-seater roadsters.
All MX-5's come equipped with alloy wheels, a leather steering wheel and LED headlights.
Mazda have a long, proven track record of making safe and dependable cars and the same goes with the MX-5. It was awarded 4 out of 5 starts in the Euro NCAP.
You'll be covered for up to 3 years or 60,000 miles under Mazda's warranty, 3 years surface rust warranty and a 12-year guarantee against rust holes in the body.
Image Credit: Top Gear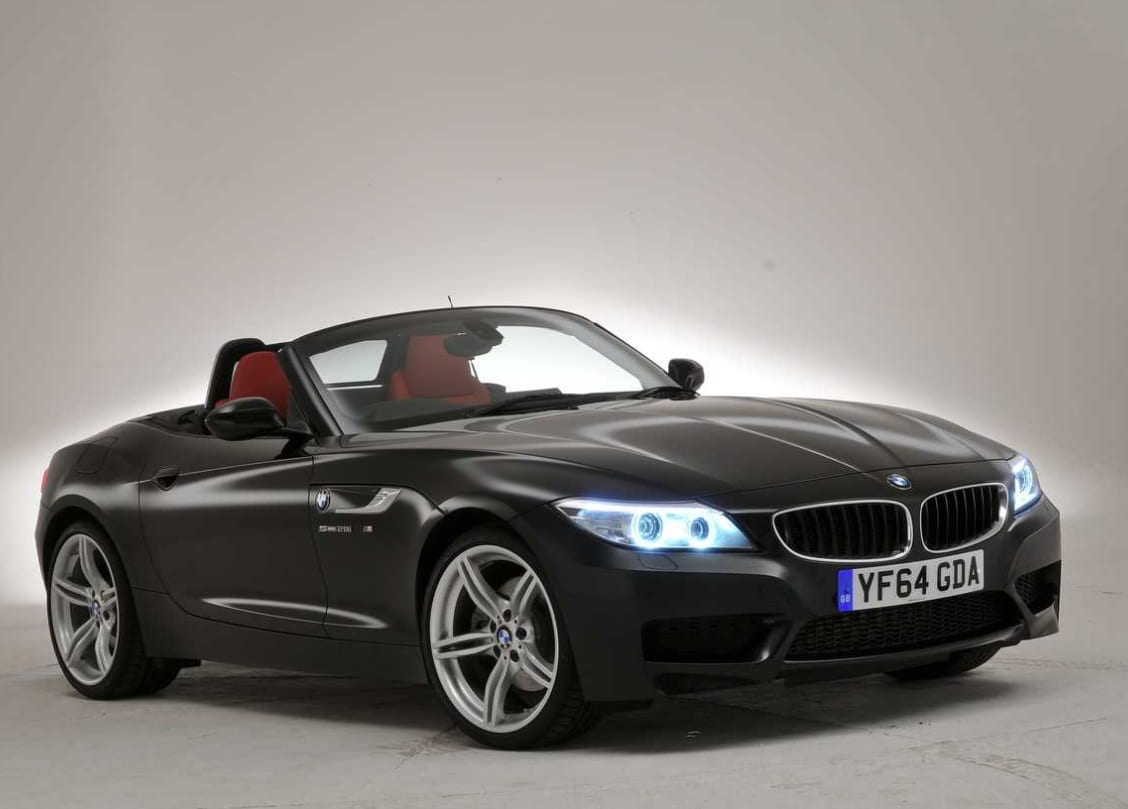 BMW Z4
The Z4 is BMW's two-seater competitor in the roadster market. It has a striking design with a long bonnet which people seem to either love or hate. It could be quite off putting for drivers as it can feel like you don't know where the front of the car is.
The rear wheel drive isn't as engaging as the Audi TT or the Porsche Boxster but it's still a fun, smooth ride. The entry level 18i version has a 2.0 litre four-cylinder engine which accelerates 0-62mph in 8.1 seconds, so it's fairly quick. The only downside is that the engines are much less economical than some of its rivals.
The newest version of the Z4 features a hard-top which means that it's quieter than most of its rivals and it comes as standard, unlike previous version which had a soft-top. Metal roofs can sometimes be a cause for concern but the mechanism on this is pretty good, so we don't expect there to be problems with it. The only downside to it is that is does take longer to lower and erect.
Inside there is a user-friendly dashboard and the cabin has a completely flawless finish. The Z4 is strictly a two-seater so space is limited; there's nowhere to put bags behind the seats. The large doors can also be tricky to get in and out of tight parking spaces.
You'll get a 3-year, unlimited mileage warranty which comes as standard.
Lusting after a BMW convertible? Let us help you get finance for a used BMW car!
Image Credit: What Car?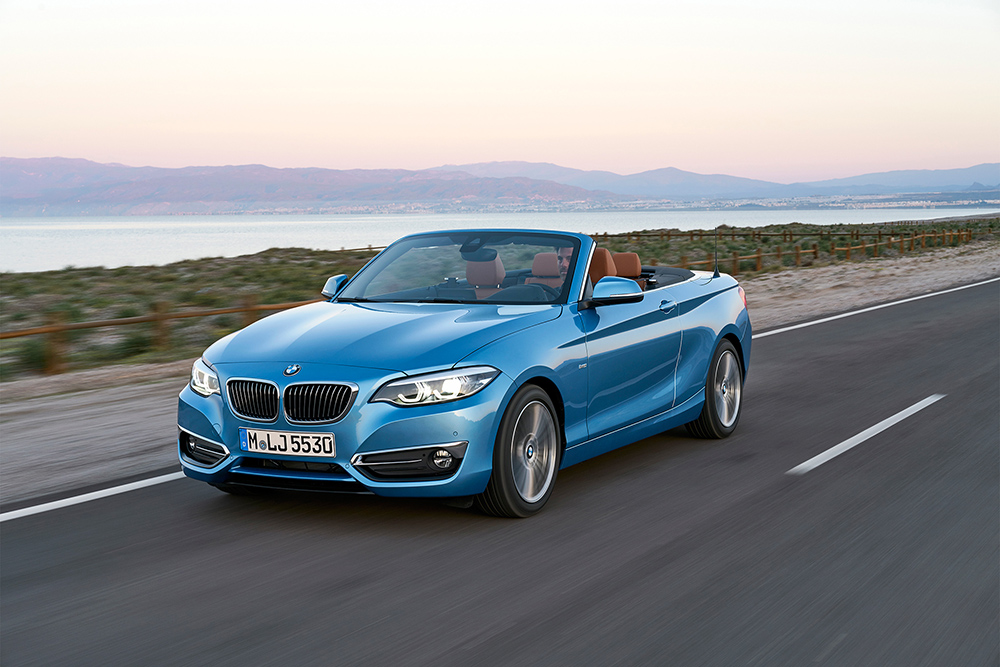 BMW 2 Series Convertible
The BMW 2 Series Convertible's main rival is the Audi A3 Cabriolet and has been very successful since it was launched. It drives brilliantly and is a really great looking car. It doesn't do too badly in terms of practicality for a convertible with a good sized boot and two small rear seats.
It drives very well and has good grip, even with the roof down, despite being based on the Coupé. Convertibles based on a hatchback or coupe model tend to lose some of their stability but the 2 Series holds itself well own the roads. It's also much more economical than the Z4 and there is a good range of engines, as expected from BMW.
The 2 Series looks much more elegant than the 1 Series – it looks great with the roof up and down. Inside the cabin it isn't the most luxurious, Audi's cabin definitely has more of a wow factor, but it's what you'd expect from an premium car.
You'll get a 3-year, unlimited mileage warranty when you purchase a BMW 2 Series Convertible.
Image Credit: Motor Trend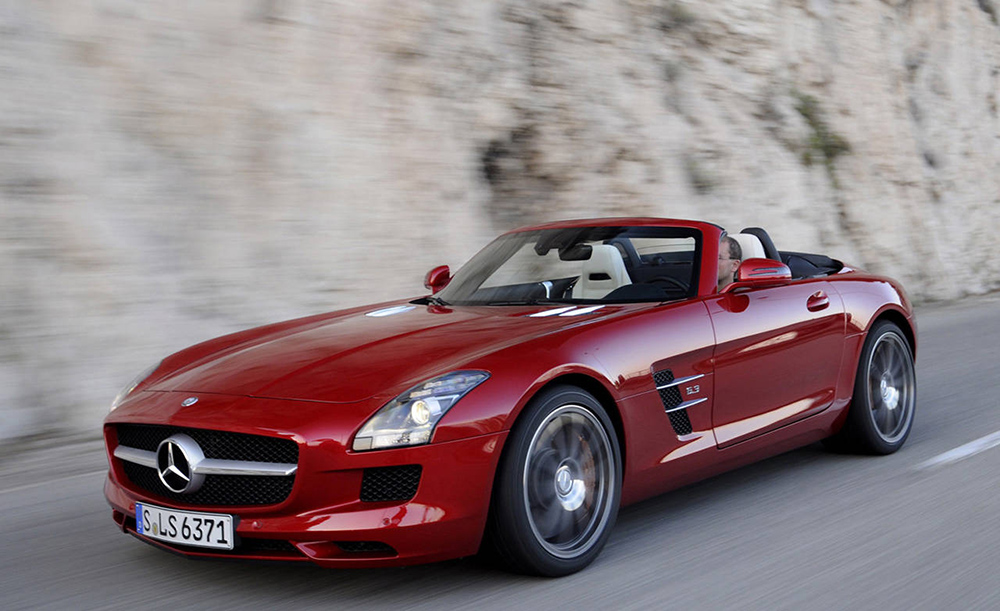 Mercedes Benz SLS AMG Roadster
This roadster from Mercedes is quite simply stunning – it's actually nicer than the hardtop on which it was based – and is one of the most fun cars to drive.
Yes, the Mercedes SLS AMG Roadster is expensive to purchase, has extortionate running costs and will also cost a small fortune to service, tax and insure it. It also depreciates very rapidly. BUT this car is truly fabulous.
Despite being based off the Coupe version, it still feels solid to drive and has incredible acceleration of 0-62mph in just 3.1 seconds. Inside the cabin is plush, the dashboard is laid out nicely and there are red leather seats that look so beautiful.
It's fairly spacious and practical inside with a surprisingly large boot – the roof is very compact when folded down so it doesn't interfere with the space too much.
The SLS AMG Roadster comes with a 3-year, unlimited mileage warranty.
Image Credit: Road & Track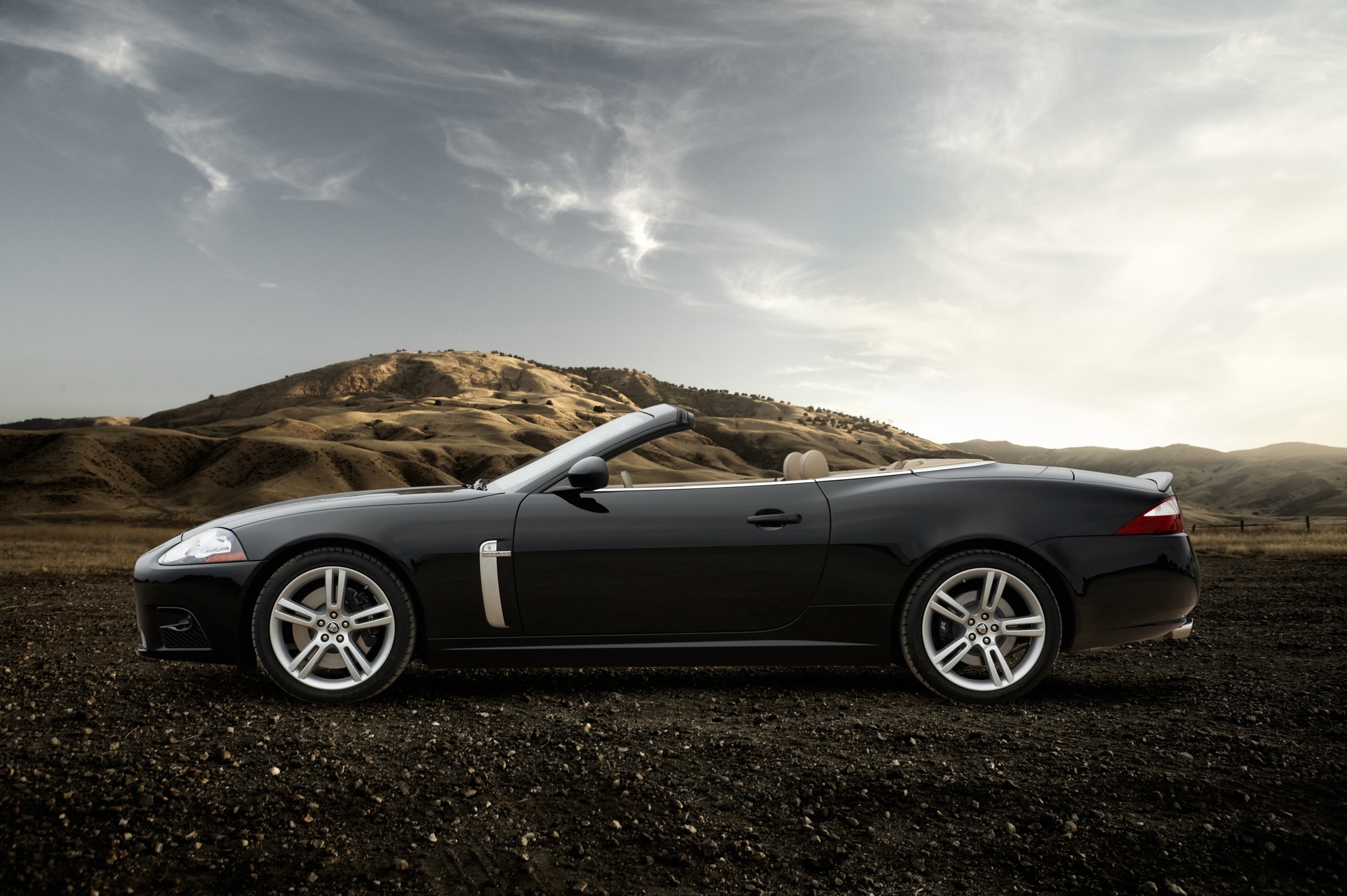 Jaguar XK Convertible
Last, but certainly not least, is the XK Convertible from Jaguar, the true definition of a luxury sports car. This is a fantastic car to drive and it ticks all the right boxes for us. It's a shame that it was discontinued in 2014.
It's definitely out of most people's price range and the running costs are hefty – it guzzles fuel and you will have large bills for servicing and repairs. But it oozes luxury; from the wood and leather materials used in the interior to the stunning exterior bodywork.
There is a fairly large boot but the rear seats are tiny which means they're more useful for carrying shopping bags than people but overall the space isn't too bad.
Its comfortable to drive, with smooth gear changes, great handling and sharp steering.
All Jaguar models are pretty reliable and they've built themselves a good reputation over the years, so you'd be pretty safe investing in one if you had the money to!
Image Credit: Concept Carz
Buy a used convertible on finance now
We can source finance for a wide range of convertible cars including Audi's, BMW's and so much more!