We all know how unpredictable British weather can be but did you know Brits buy the most convertibles in Europe? For many, this can be really surprising. However, British summertime can make for some of the best driving conditions in a convertible car. You don't have to worry about uncomfortably hot seats or getting too sunburnt and it can be the perfect weather for summer road trips in the UK! Looking for the best convertible cars to enjoy the summer weather? We've got you covered! From small cabriolets to affordable convertibles you can finance, our list of the best convertible cars 2022 has something for you.
Fasten your seatbelt; we've got our top ten picks of the best convertible cars: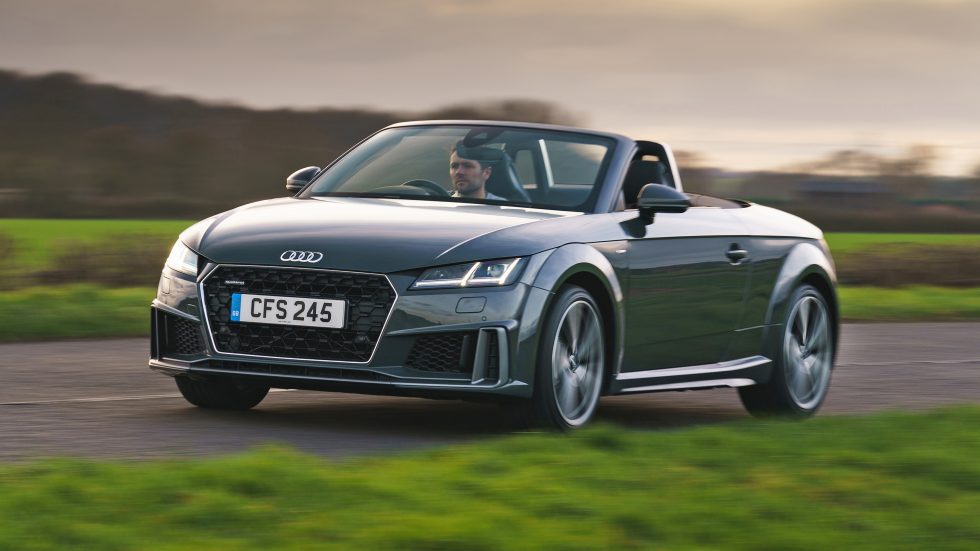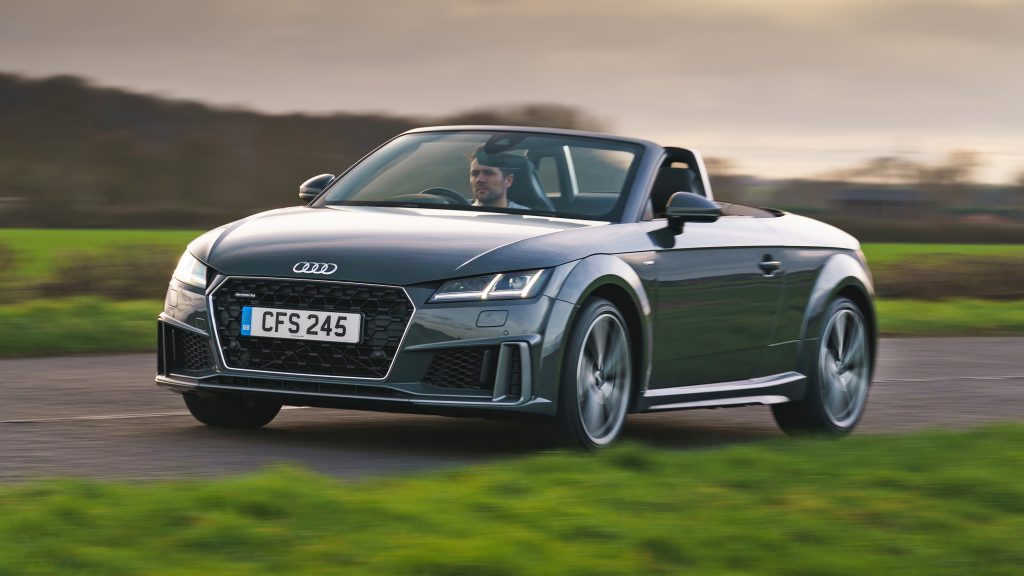 One of our best convertible cars is the TT Roadster which is famous for its incredible looks, high-quality cabin and reasonable running costs. When it was first launched in 1999, the Roadster became an iconic car very quickly and since then it hasn't changed its design (quite frankly though, it doesn't need to!) However, Audi has refined the car over the years and now in its third generation it really has been perfected (well, almost).
It doesn't weigh as much as some rivals such as the BMW Z4, which gives it that light and accurate steering. The engines are fast but efficient so the running costs are pretty reasonable for a sporty car.
You don't sit as low down in this convertible which many people may prefer and there is lots of room for adjustment to find a comfortable driving position.
The boot is smaller than the coupe, which is to be expected, and there are no rear seats but who buys a convertible for its practicality.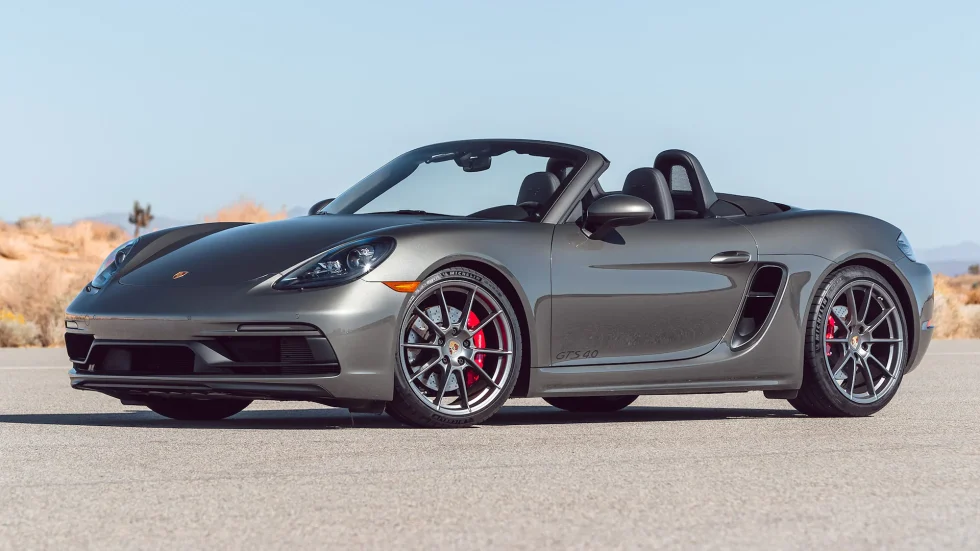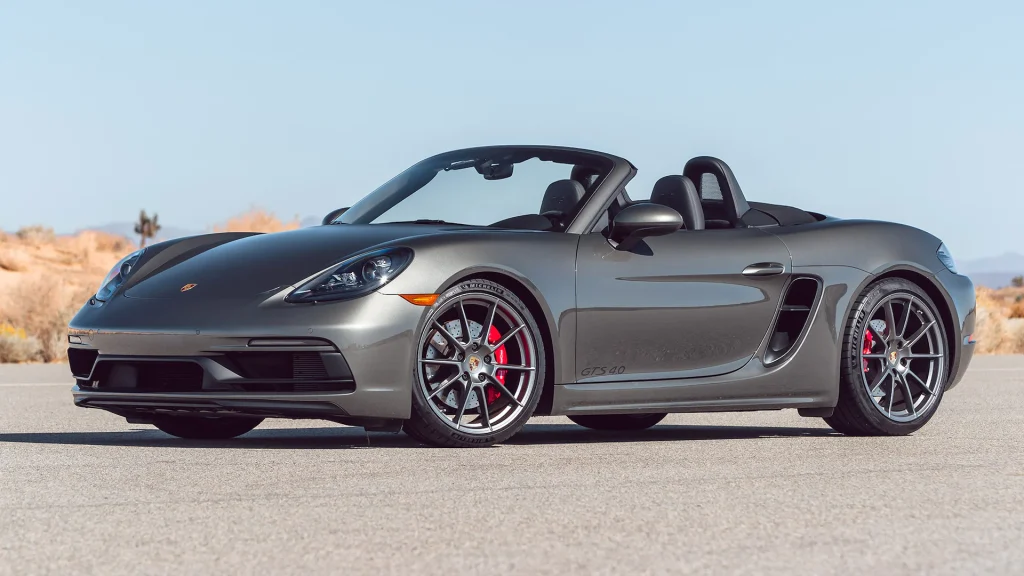 The Porsche Boxster was first introduced to us 20 years ago and it still is one of the best convertible cars out there to drive. However, unfortunately, the Boxster was discontinued in 2021 but there are plenty of used car finance options available. It has sharp, precise handling and really packs a punch in terms of performance, accelerating 0-62mph in just 5.1 seconds.
The interior is simply stunning and has been built with great quality materials. You have the option of upgrading the leather material and colourful trims should you fancy it. It's also relatively spacious and practical for a two-seater roadster.
One of the downsides of purchasing such an expensive car is that replacing parts and servicing it becomes very expensive. Expect to pay through the nose for things like replacing tyres and repairing brakes – but for such a beautiful car who could complain?
On the plus side, you can finance a Porsche and spread the costs into more affordable monthly payments. 
Paintwork is covered for three years and there is an anti-corrosion guarantee that runs for 12 years.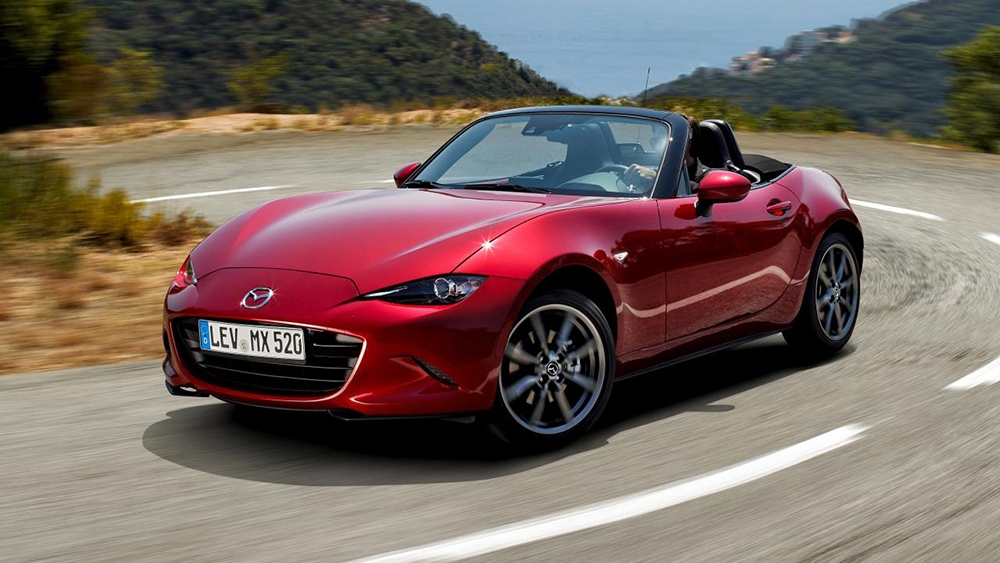 Next on our list of best convertible cars is the world's best-selling roadster; the Mazda MX-5. Since its launch in 1989, the Japanese brand has sold over one million sports cars worldwide, with over 120,000 in the UK.
Due to its lightweight, the Mazda doesn't need a lot of horsepower to get it going, although it is capable of 0-62mph in 8.3 seconds with its 1.5-litre engine.
In terms of costs, getting a Mazda on finance comes with expensive insurance – it falls into insurance group 26 with a 1.5-litre engine and manual gearbox however the running costs balance out this expense. With its lightweight and economical engines, the MX-5 is very reasonable to run compared to most other two-seater roadsters.
All MX-5s come equipped with alloy wheels, a leather steering wheel and LED headlights.
Mazda has a long, proven track record of making safe and dependable cars and the same goes with the MX-5. It was awarded 4 out of 5 stars in the Euro NCAP.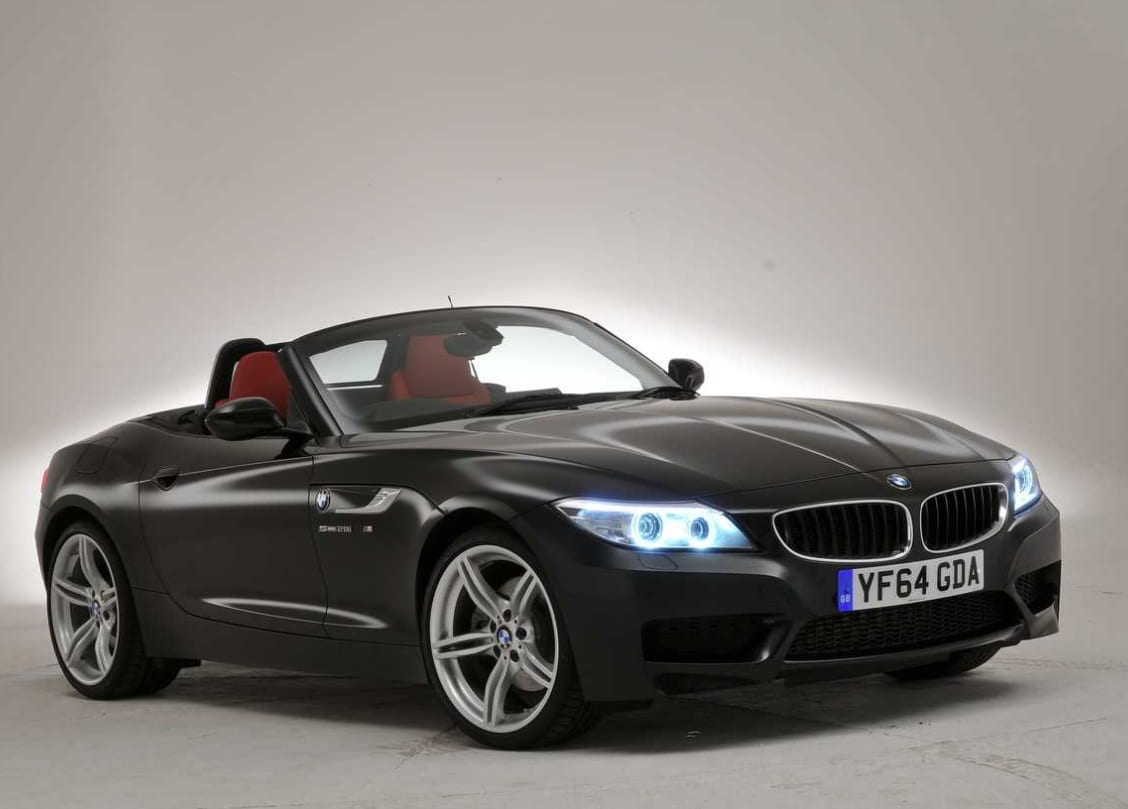 The Z4 is BMW's two-seater competitor in the roadster market. It has a striking design with a long bonnet which people seem to either love or hate. It could be quite off-putting for drivers as it can feel like you don't know where the front of the car is.
The rear-wheel-drive isn't as engaging as the Audi TT or the Porsche Boxster but it's still a fun, smooth ride. The entry-level 18i version has a 2.0-litre four-cylinder engine which accelerates 0-62mph in 8.1 seconds, so it's fairly quick. The only downside is that the engines are much less economical than some of its rivals.
The newest version of the Z4 was released in 2018 and is only available as a roadster.
Inside there is a user-friendly dashboard and the cabin has a completely flawless finish. The Z4 is strictly a two-seater so space is limited; there's nowhere to put bags behind the seats. The large doors can also be tricky to get in and out of tight parking spaces.
You'll get a 3-year, unlimited mileage warranty which comes as standard.
Lusting after a BMW convertible? Let us help you get finance for a used BMW car!
5. Mini Cooper Convertible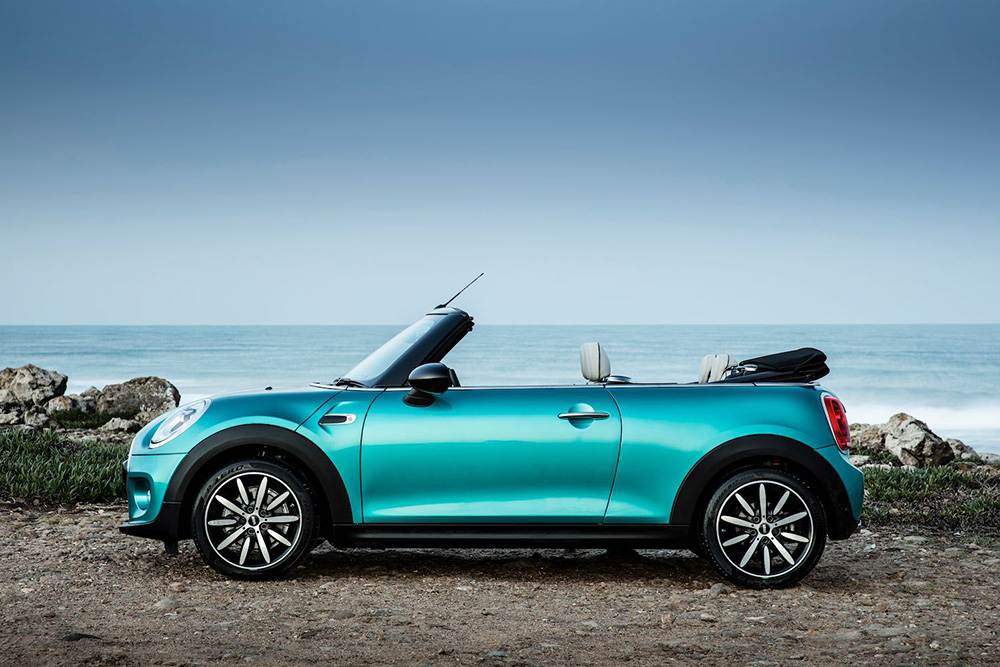 The beloved Mini is a firm favourite in Britain and is regularly featured in best-selling cars roundups. It's easy to see why; the Mini is fun, stylish and easy to drive with its smooth gear changes.
The Mini Convertible is fairly economical to run and now comes in three versions – Cooper, Cooper S and John Cooper Works. You can also choose from three different trim levels including the Classic, Sport and Exclusive. 
The interior is quirky, with a retro-inspired feel to the dashboard which matches the cute exterior perfectly. The driving position is very comfortable and it does have a sporty feel to it when you're behind the wheel with the roof down.  The Mini offers lots of customisation options, so you can really make it totally unique.
The latest version of the Mini has more space than previous models, although rear passengers will still find it a little cramped.
If you want to get yourself into a quirky Mini Convertible then let us help you get your mini finance sorted!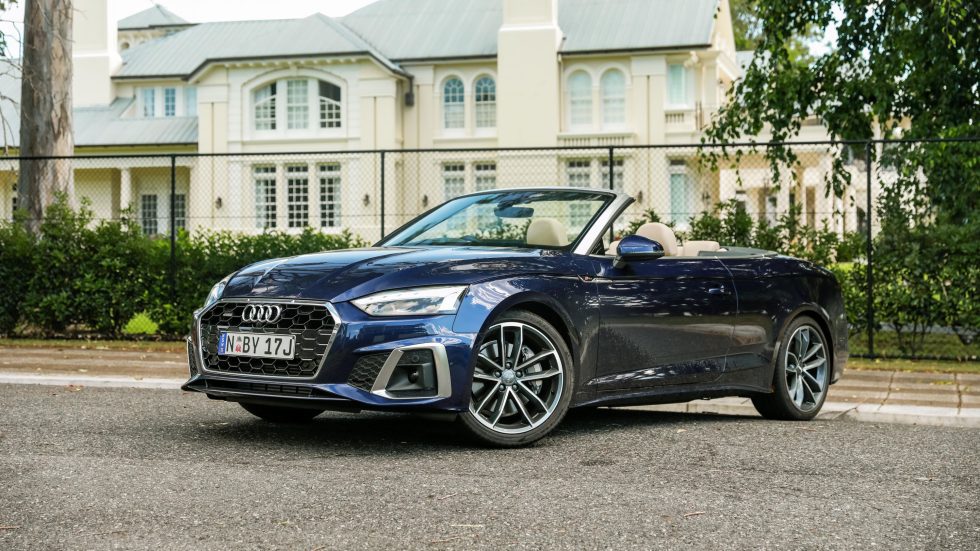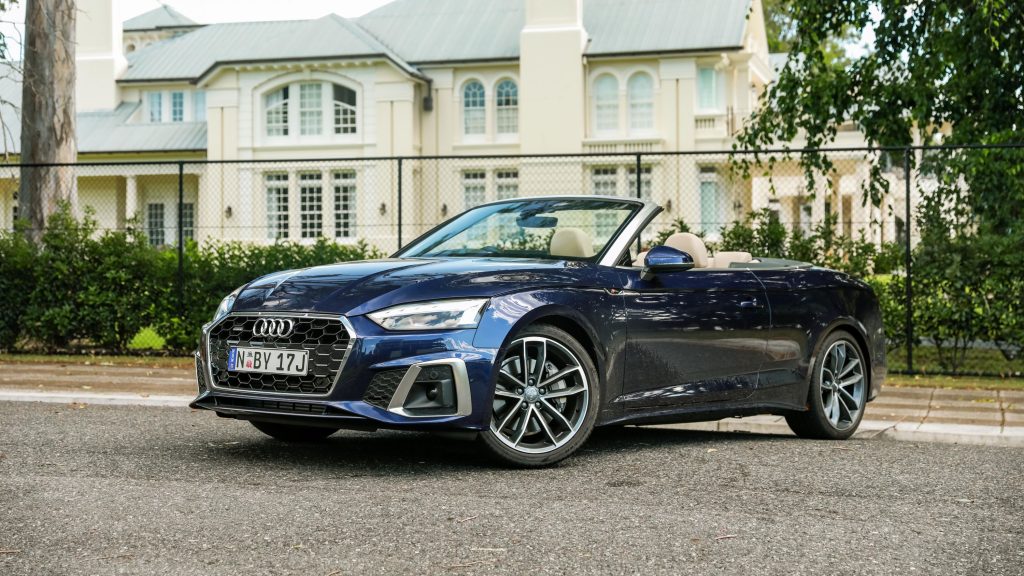 The Audi A5 Cabriolet is one of our favourite convertible cars! The A5 Cabriolet really embodies Audi's high level of sophistication with the added bonus of that wind through your hair feeling. 
It's elegant to look at and can comfortably fit four full-size adults, making it a great choice for a family convertible car. 
The fabric roof is easy to operate and can be dropped in just 15 seconds. It's not too noisy in the cabin with the roof down either so everyone can enjoy a peaceful driving experience. 
The A5 is a practical cruiser which is fun to drive and can suit a range of drivers. Thanks to its versatile engine options, you can choose from a two-litre four-cylinder diesel engine that provides good MPG for a convertible car. You could also opt for two-litre petrol engine for cruising around town.
7. Mercedes E-Class Convertible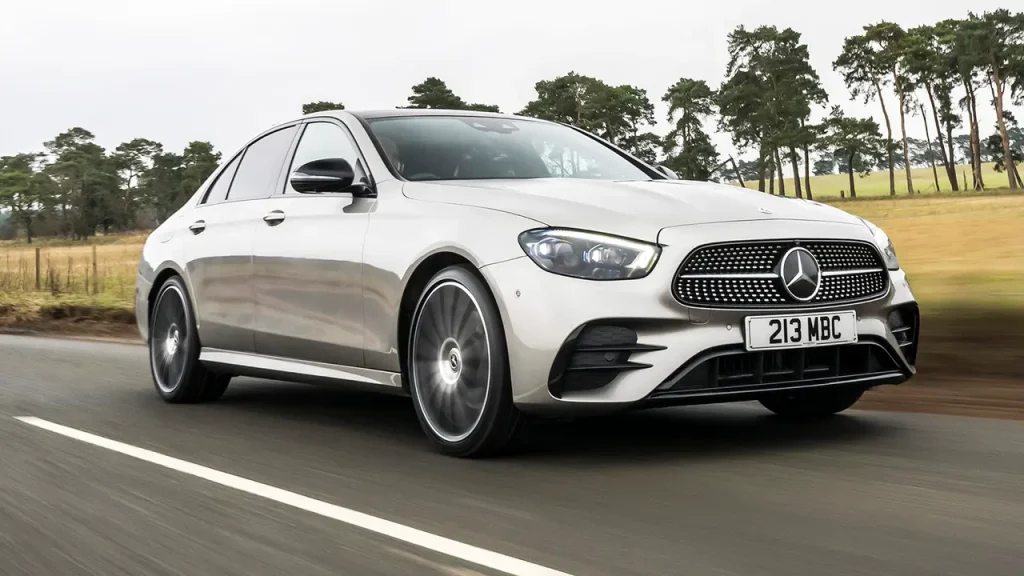 One of the most luxurious convertible cars on our list is the stunning Mercedes E-Class Convertible. If you want something to compete with the likes of the Audi A5 Cabriolet above, the E-Class is a great contender. Getting a Mercedes on finance can help to spread the cost of ownership and you can choose the convertible model that suits you.
Like most Mercedes models, the interior and exterior feel plush and well-designed. It also boasts a large and spacious interior and a smooth driving experience.
When it comes to engine choice, the Mercedes E-Class is probably the most progressive when it comes to the best convertible cars. There is a range of efficient petrol and diesel engines to choose from and many of them benefit from mild-hybrid technology to help assist the engine. Find out more about our used hybrid car finance options.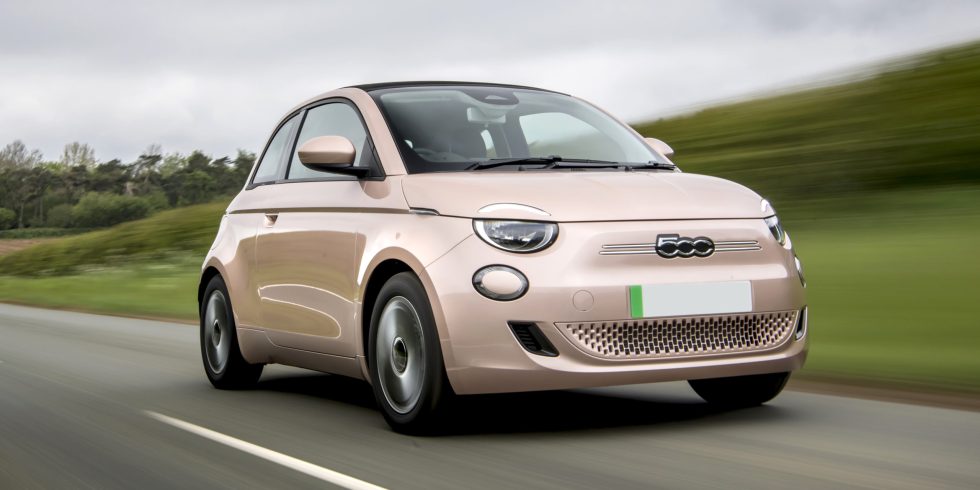 Looking for the best small convertible car? Look no further than the Fiat 500! The Fiat 500 has long been a favourite with first-time or new drivers looking for a car. Not only is the Fiat 500 a cute and stylish comfortable car but it's also fully electric! The latest version of the Fiat 500 convertible was released in 2021 and is only available with an electric engine.
If you're not yet ready to go all-electric, you can benefit from some great used Fiat 500 finance deals. Take your finance deal to any trusted dealer in the UK and you can get the convertible model of your dreams! 
The latest version comes at a higher price tag than other models but has been built with higher quality material which really shines throughout the interior. The Fiat 500 Convertible or Fiat 500C Electric can be better suited to city driving as it is only a small car anyway. Add on a smaller electric engine and it could struggle to compete on the motorway. However, if you're looking for an all-electric convertible, it can be one of the few choices you have.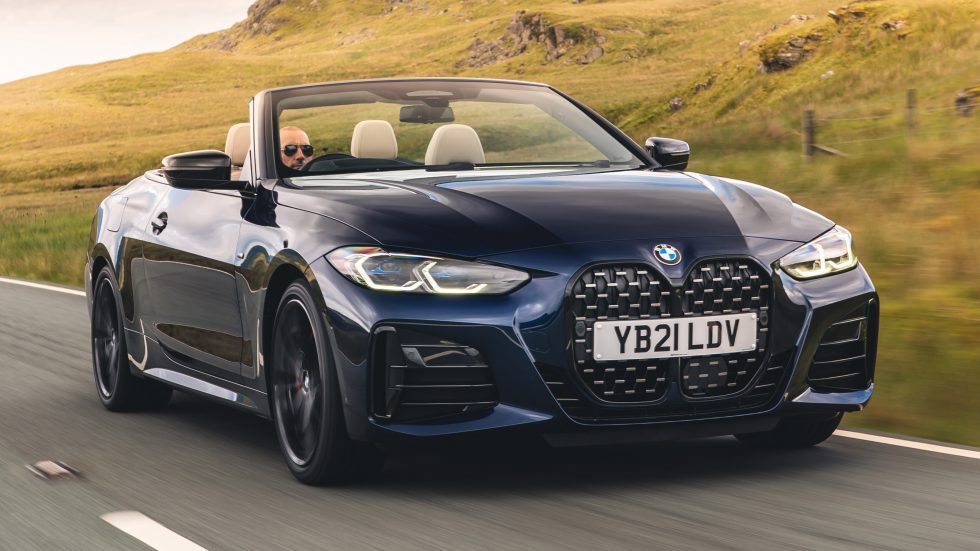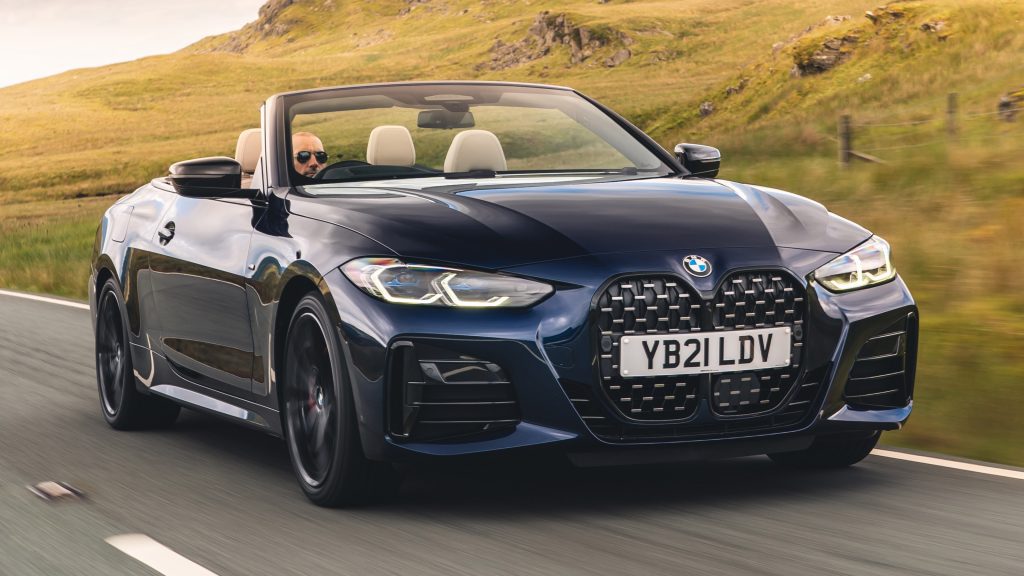 One of the newest convertible cars on the market is the BMW 4 Series Convertible. In 2021, the BMW4 Series hit the showrooms to show off its light cloth hood and double kidney grille that you may have already seen on the 4 Series Coupe.
There's no need to worry about space as the 4 Series Convertable can comfortably fit 4 adults and promotes a decent boot space. making it a perfect car for those summer road trips and motorway driving.
Inside the cabin, you'll still be able to hold a conversation with the roof down. When the windows are up and the roof is down, the cabin feels isolated and not too windy.
The latest version is 40kg lighter than the older, more clunky convertible model. This means its latest edition has reduced fuel consumption, improved performance and increased practicality.
10. Volkswagen T-Roc Cabriolet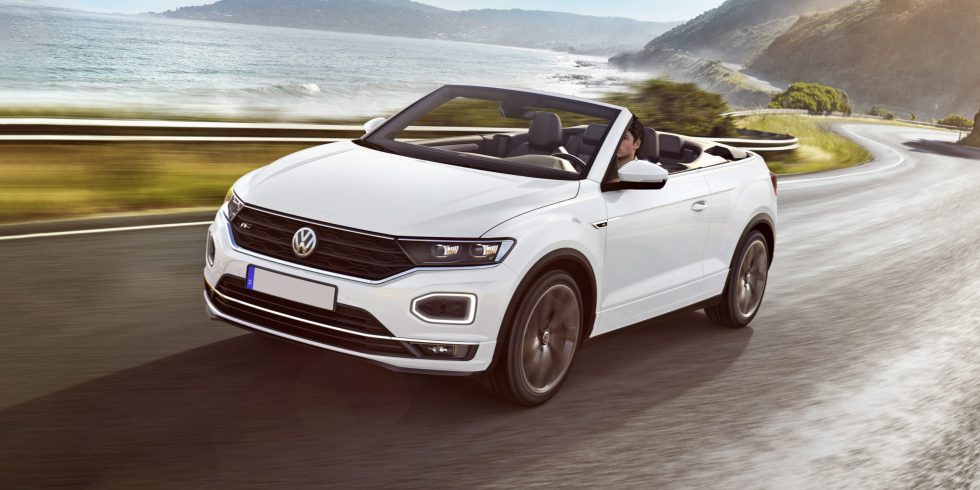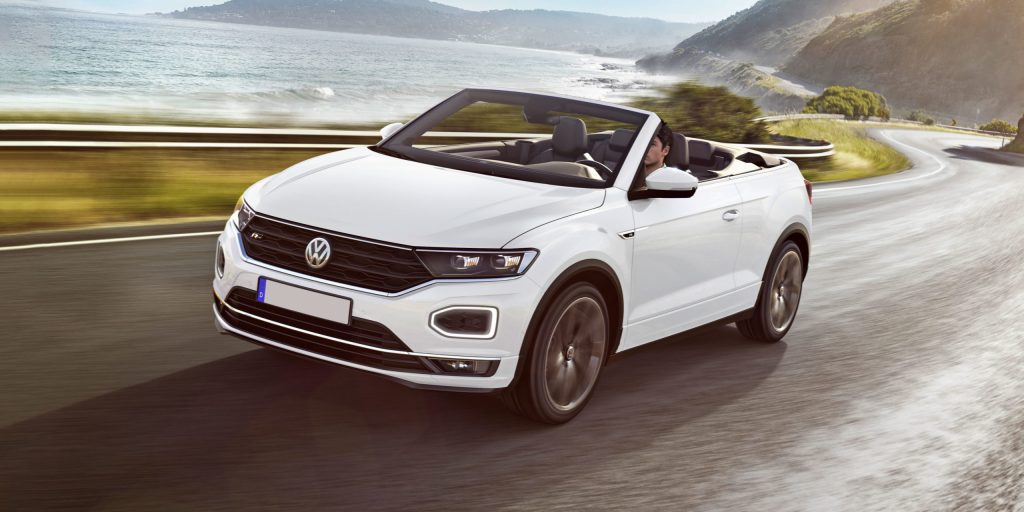 When you think of the best convertible cars, not usually does a Volkswagen spring to mind. But, the Volkswagen T-Roc Cabriolet makes more sense than you think. The popularity of the T-Roc has been a great gamble for Volkswagen and drivers can benefit from an affordable price tag with a sophisticated feel. 
You really can get more for your money when it comes to financing a VW. The entry-level version comes with loads of great equipment as standard and the engine range can be suited to a number of drivers. 
The Volkswagen T-Roc can be a great choice for anyone who wants the look and feel of a sturdy SUV but with the freedom of a cabriolet. 
Buy a used convertible on finance now
We can source finance for a wide range of convertible cars including Audi's, BMW's and so much more!