There may be many reasons why you would ask yourself 'Can I transfer my car finance to someone else?' If you're in this position, it may be because you want to apply for a new form of credit, are struggling to meet the repayment schedule or want to boost your affordability for finance. Whatever the reasons for wanting to transfer your car loan to someone else, you need the facts first. In many cases, it's not possible to transfer your car finance to another person but our blog is here to help you find a suitable alternative option.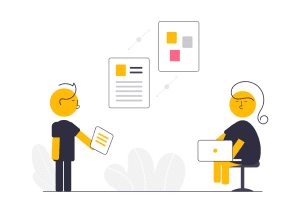 Can I transfer car finance to someone else? 
We love helping our customers in any way we can. However, some situations are beyond our control and as a car finance broker, the final decision on your car finance lies with the finance lender. Unfortunately, you can NOT transfer your car finance over to someone else. This is because when you took out the loan, it was tailored to your personal circumstances and no one else will have the same situation as you do. If you are struggling to meet the repayment schedule of your current loan, there are a few things you can consider instead of transferring car finance to someone else.
1. Speak with your lender.
The first thing you should do before you make any big decisions about your current car finance agreement is to speak with the lender. Update the lender on your current situation and let them know why you were considering transferring your car finance into someone else's name. If it's due to your inability to make car finance payments on time, the lender can advise you on the best steps to take. We are a leading car finance broker, so this means we help to introduce you to a lender who wants to offer you finance. The lender is the one who you make payments to each month, not Refused Car Finance. If you're unsure who your lender is, you can find out by checking your bank statements to see who you've been paying each month or if we helped to source your finance in the past, simply get in touch with us and we can give you the contact details of your lender.
Remember: You should never miss or make a late car finance payment! 
Missed or late repayments can have a detrimental effect on your ability to get a car on finance in the future. It has a negative impact on your credit score and if it's a secured loan such as Hire Purchase or PCP, the lender has the right to take the car off you as the lender owns the car throughout the agreement. Always speak with the lender first to see how they can help.
2. Ending your car finance agreement early.
Instead of trying to transfer car finance to another person, you could consider ending the agreement before the term ends. When it comes to cancelling your car finance agreement early, you have two options.
1. Cancel through voluntary termination. If you have paid back at least 50% of the total amount payable on your car finance, you can simply hand the car back to the lender through voluntary termination. As long as the car is in good condition, you can hand the car back to the dealer and the finance will be settled.
2. Settle the existing debt. To settle a car finance deal early, you will need to obtain a settlement figure from your lender first to see how much you have left to pay. You can settle your car finance early at any time as long as you pay the balance off in one lump sum.
If you're struggling to keep up with your current payment schedule, you could consider refinancing your car loan. Refinancing is when you place your current loan with a new one with better terms and you could use it to lower the monthly payment or extend the loan term. It is usually the most cost-effective once you're halfway through your current agreement though so it may not be an option for everyone.
Learn more about how to refinance a car loan.
Get a free finance quote
Make a free, no-obligation application for car finance and one of our friendly team will be in touch to assist you further. Applying with us won't harm your credit score either!