Cheapest places to park your car in the UK
The National Numbers recently conducted a survey to find out the cost of parking per hour in major cities across the UK. They compared data between the HPI checker and Parkopedia to find out where the least expensive parking is with some fascinating results.
North East drivers have the most to cheer about as two of their major cities make the top 3 places. Taking the top spot on the cheapest place to park in the whole of the UK is Sunderland at just £0.79 per hour on average. Sunderland have even more to celebrate as it comes third on a global scale being beaten by only Sofia, Bulgaria, at £0.68 and the ultimate cheapest of Bucharest, Romania, at only £0.55 per hour.
Sunderland's rival town of Newcastle Upon Tyne takes third as the cost goes up to £1.72 ensuring the North East reigns supreme.
Splitting the Mackems and Geordies is the Brummies as Birmingham costs just £1.50 on average cementing second place on the UK list.
The most expensive place to park in the UK is London which is unlikely to shock many of you at over 11 times the cost in Sunderland. Manchester and Cardiff are the second and third most expensive retrospectively.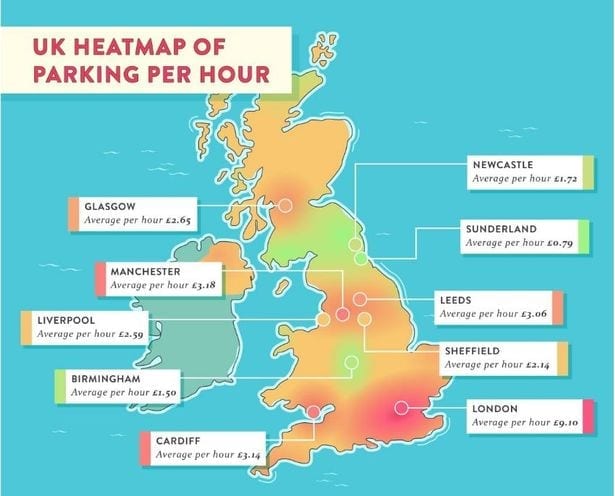 Below is a list in order from the cheapest to most expensive places to park your car in the UK:
If you're struggling to find the best place to park in your local area then these handy apps for drivers may come in useful to help you locate the cheapest parking space in your area.
Let us know what your thoughts are, did your city come out on top?
Can you park on single yellow lines?
Single yellow lines mean that parking is restricted during certain times of the day. These restrictions should be indicated by a sign nearby and outside of these times, you will be able to wait or park on a single yellow line. Each council and local authority have their own guidelines so you should read the restrictions carefully before you commit to parking there. 
Can you park on double yellow lines?
Double yellow lines mean that parking or waiting is NOT permitted at any time. The fine for parking on a double yellow line is usually £70 and reduced by 50% if paid within 14 days. This can vary depending on the local authority.
In some cases, there can be seasonal restrictions which would be advertised on road signs nearby.
Blue badge holders can park on double yellow lines for up to 3 hours as long as it is safe to do so and does not affect other drivers.
Can you park on on Red Route stopping controls?
In highly populated areas such as London, red route double and single lines are sometimes used. Red routes indicate that parking and stopping in this area is not permitted unless you are driving a taxi or have a blue badge. A single red line usually has time restrictions which will be indicated nearby and double red lines mean no stopping at any time.
Can you park on Clearways?
A clearway sign is a red cross on a blue background and can consist of two lines to make a cross or one line through the middle. A red cross clearway sign means no stopping at any time. There will also be a sign underneath or above which will indicate the length of the clearway e.g. 'for 5 miles'.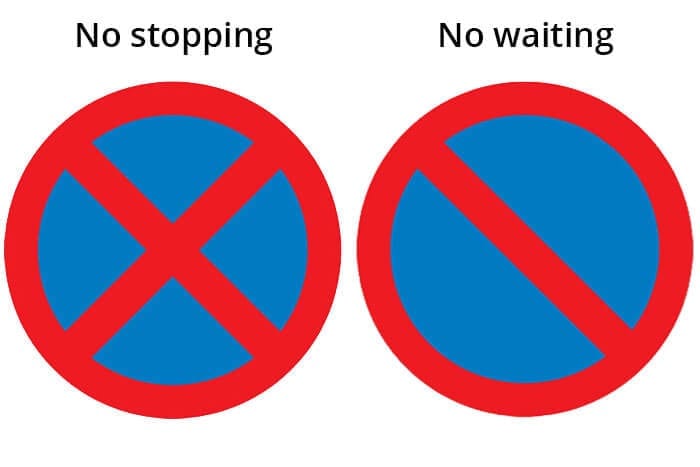 Can you park on yellow zig-zag lines? 
Yellow zig-zag lines are usually found outside of schools, hospitals, fire stations, police stations or ambulance stations. The highway code states that you should not park or wait in these areas at any time. 
Can you park on white zig-zag lines?
White zig-zag lines usually are usually on either side of a traffic controlled pedestrian crossing. Drivers must not park or overtake other vehicles while in this area. If you do, you can face a penalty fine and also point s on your license as it can obstruct the view of pedestrians.