The Christmas season is well and truly upon us, so it's time to think about what to buy our loved ones. If you have a car lover amongst your friends or family then fear not, as Refused Car Finance have the ultimate Christmas gift guide for car lovers!
Our top picks from 2016:
EE's 2 Buzzard – £59.99
This is a great device for entertaining passengers (especially young ones!) on longer journeys. The Buzzard plugs directly into your dashboard and provides super-fast 4GEE Wi-Fi. It also includes a USB adaptor so you can keep the battery topped up on your various devices. Available from EE here.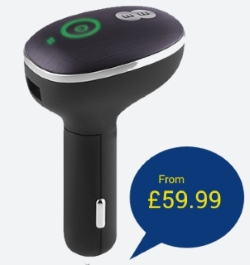 Next Base in Car Cam 402G – £149.99
According to the Insurance Fraud Bureau, 30,000 'crash for cash' incidents take place every year, which can cost up to £340m. Now people have taken steps to ensure that they are protected against these types of scams. Having a dashboard cam has been one of the most popular ways to protect you. The Next Base in Car Cam is one of the best dashboard cameras out there as it was voted by. This nifty device provides you with proof of location and speed through the GPS satellite, braking, crash avoidance and the ability to support any insurance claim or dispute. You can find the Next Base in Car Cam from their website.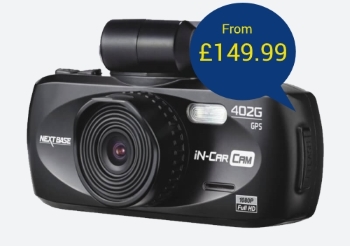 Fresh Face Car Freshener – £12.99
What says I love you more than a personalised car freshener? These quirky little gifts make great stocking fillers. Fresh Face allow you to choose up to 3 photos and one of their five unusual scents (bacon, coffee, fresh linen, new car or island breeze!)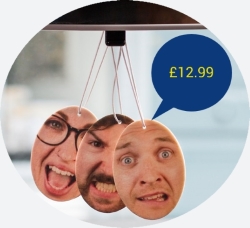 Gear Stick Bottle Stopper – The Imperial Clocks incorporates practicality and fun into their gear stick bottle stopper making it the perfect gift this season. Give it to your car-obsessed uncle who loves a little tipple. Cheers! Buy the Gear Stick Bottle Stopper from NotOnTheHighStreet.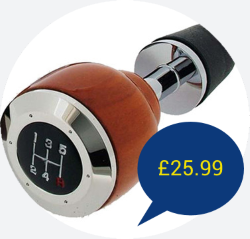 Me and My Car Porsche Memory Stick – £24.00 Me and My Car's Porsche memory stick holds up to 8MB of data, however the best feature of this memory stick has to be the front headlights lighting up when you are transferring data.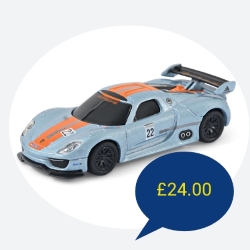 TomTom GO 40 4.3" Traffic & Maps, UK & ROI Sat Nav – £109.99
There are many factors to consider when you are choosing a new Sat Nav. Gone are the days of a simple route home after work, as Sat Navs now have the ability to give traffic updates, notifications of any upcoming speed cameras and include maps of Europe. Of course, the price that you pay will affect which features you get however these days you can get a well-equipped Sat Nav at very reasonable prices. After much deliberation, we have settled on the TomTom Go 40 4.3" Sat Nav as it has some useful features and is a good size. This version features life time pre-loaded maps of the UK and Republic of Ireland, and gives a warning of any traffic ahead on your journey. To make use of the Speed Camera alerts you do have to pay extra, however you can take advantage of a 3 month free trial to see if you feel like it is worth that bit extra. You can pick up the TomTom GO 40 at Argos.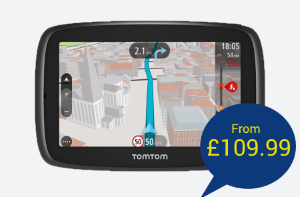 Forza Horizon 3 Racing Game – £29.99
One of the best games released this year is the open world racing game based in Australia, Forza Horizon 3. With 350 cars to choose from and the map being twice the size of the map in Forza Horizon 2, there is much to shout about. It comes as no surprise that this game has dominated the best-selling charts in the UK and the USA. Available on Xbox One and Microsoft One. Order Forza Horizon 3 at Game.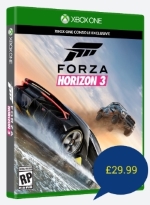 Qwerkity Windscreen Cover – £12.99
This magnetic windscreen cover provides protection for your car during the icy winter season and in the summer months protection from the sun. It is small enough that it fits perfectly inside the glove box. You can secure this cover over your car with magnetic straps and the straps to keep it in place. You're then all set and you can say bye-bye to scraping off frost with your de-icer on those cold dark mornings.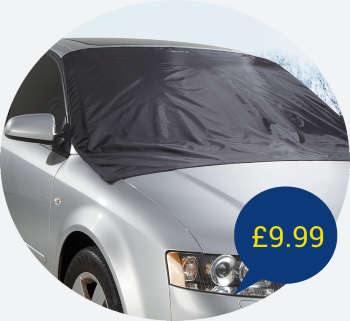 Go Karting at Warden Law – From £20.00pp
Go Karting is great all round fun for all ages and makes the perfect gift. Warden Law Motorsport Centre is based in Sunderland just off the A690 so it is really accessible for all North East Regions. Prices start from just £20.00 per person for 15 minutes on the track or go head to head in a Grand Prix from £45.00 per person. Find out more at Karting North East.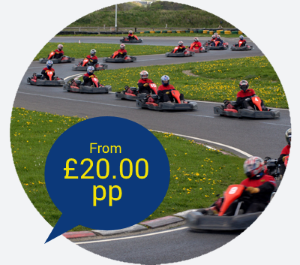 Stuntdriveexperience.co.uk Driving Experience – From £99 per person
For the adrenaline junkie in your life it doesn't get much better than this. The Stunt Drive Experience arena is the only stunt arena in the North East of England and offers a thrilling ride for the daredevil you know. Learn how to do manoeuvres such as the donut, handbrake turns and undertake the parallel parking challenge. Find out more about their prices and what it consists of at Stunt Drive Experience.
So there you have it – our top picks of the perfect car-related gifts. Let us know on Facebook if you would buy any of these gifts, whether for yourself or for a loved one!