Am I eligible for car finance? 
If you're wondering whether you're eligible for car finance, our finance criteria breaks it down for you. We want to make car finance as accessible as possible for drivers all over the UK. Our simple criteria is in place to help both us and you to understand the way car finance works and the likelihood of getting the finance approval you need! 
Eligibility for car finance:
We treat each and every car finance application as an individual but if you're worried about your chances of getting approved for car finance, our lender offers the below car finance criteria as a guideline. As long as you can say YES to the following eligibility requirements, we could help you get a car on finance: 
I am over 18 years old. ✅
I can prove my affordability. ✅
I am not currently bankrupt. ✅
I have lived in the UK for 3+ years. ✅
I have a full UK bank account. ✅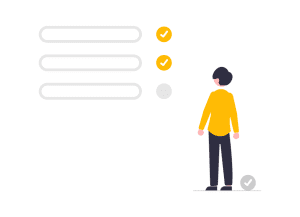 Car finance eligibility checker
When you make a free, no-obligation application with us, we get straight to work finding you the best car finance package for your circumstances, even if you have bad credit! Our car finance eligibility checker is a fast and free way to see how we can hep you without harming your credit score! We use a soft search credit check only which means you can protect your credit score whilst securing a car finance deal. Once we've finalised the paperwork and you've signed the agreement, all that's left to do is choose a car within your budget! It really is that simple! 
Does applying for car finance affect my credit score? 
Once you've familiarised yourself with our car finance criteria and you've decided car finance is right for you, it's time to apply! One of the biggest benefits of using a car finance broker like us is that we only provide a soft search on your credit file when you apply. A soft search credit credit allows us and our lenders to take a partial look at your report and we don't get access to the full file. A soft search can be recorded on your report for you to see but it won't leave a visible footprint nor will it affect your credit score. 
In some cases, applying for finance with multiple car finance lenders in a short space of time can have a negative impact on your score. You can save time and protect your score but applying with us and we do all the leg work for you. We compare some of the most trusted lenders in the UK in an instant and help you to select the best car finance package with the lowest rate available. 
The bad credit car finance market is very competitive but we are one of the leading brokers in the UK and nobody works harder to get you approved! Our bespoke lending panel means we can offer some of the most competitive deals around.
☑️ No deposit is needed.
☑️ Hundreds of cars to choose from.
☑️ 5* FCA-regulated company.
☑️ Bad credit specialists.
☑️ Monthly payments to suit your budget.
☑️ Benefit income, self-employed & no credit history accepted.
☑️ Huge range of trustworthy UK lenders.
☑️ Refinance your PCP balloon payment with us.
☑️ No credit impact when you apply. 
☑️ Part exchange available.
I came to this company looking for a car, I didn't know what to expect. I met Richard who took me through the whole process, he was absolutely amazing. I kept changing my mind, but he was there and he was so patient with me, he was incredible. In the end, I got the car I wanted and Richard made sure he helped me find a car that was within my budget. Richard thank you, and thank you for bearing with me while I could not decide…. Overall the customer service was exceptional. Thank you Refused Car Finance & thank you, Richard 👏👏👏
Can I get a car on finance with low credit? 
Many of our customers first come to us and ask what is the lowest credit score needed for car finance and in short our answer is, there isn't one. There are three main credit referencing agencies and each has its own scoring criteria which makes it hard to pinpoint a certain score you need for car finance. We don't just focus on your credit history and instead look to the future. We assess your application based on our car finance eligibility criteria and focus more on your affordability instead to get you approved! Affordability is really important for car finance and as long as you can prove your income and ability to meet repayments, we can get on your way to finding a new car! 
Check your car finance eligibility!
Make a free, no-obligation application with us today and see how we can help you! Our soft search checker means your credit won't be impacted and we can get straight to work finding you the best finance package for your circumstances!