Winter has officially landed in the UK! With the temperature dropping and the days getting darker, the cold weather can seriously affect your car and driving style and also increase your chances of a road accident. Make sure you stay safe and prepared for any weather with our top winter car hacks.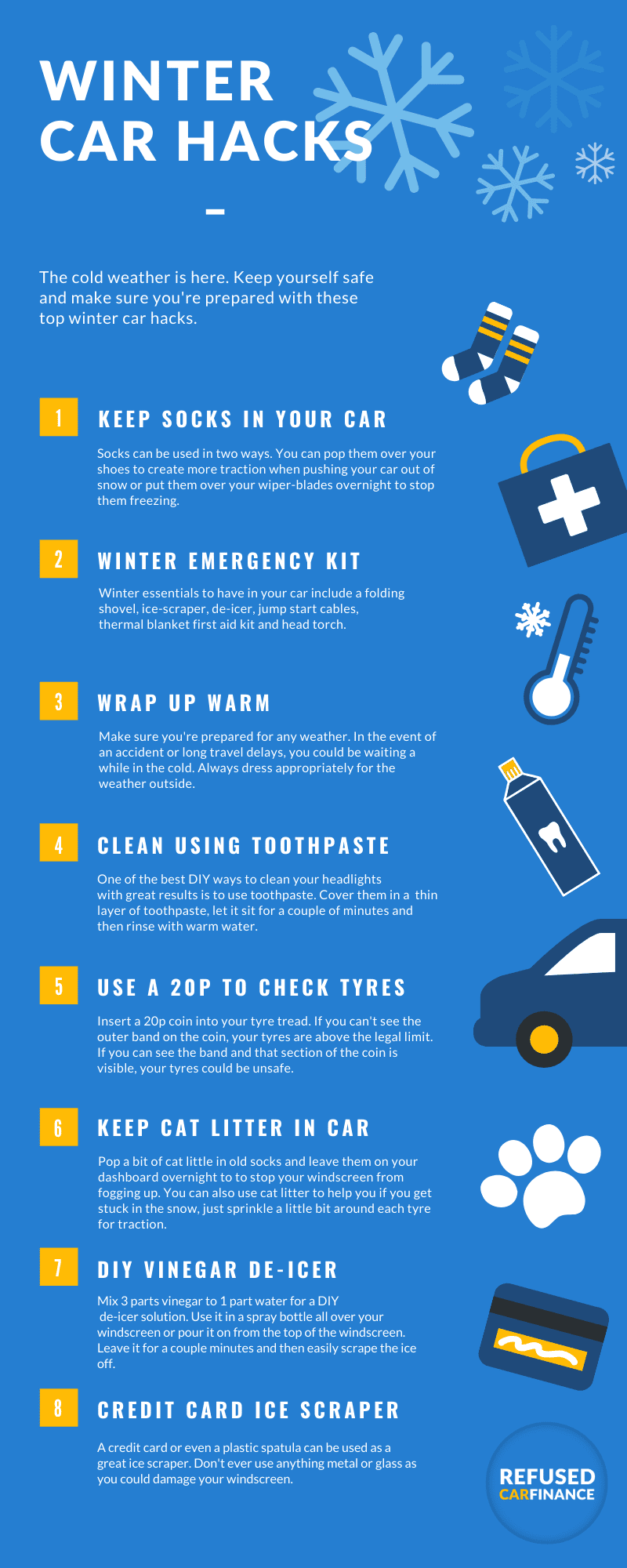 Keep socks in your glovebox
Socks can be really handy in the winter. A good pair of winter socks can have a few handy uses. If you're tyres are stuck in ice, you can pop the socks on over your shoes to create more traction when pushing your car. You can also use them to cover your wiper blades overnight. Just gently lift up your wiper blades and pop the socks over them, this will stop your blades from freezing overnight and make de-icing a lot faster in the morning!
Use cooking spray on frozen doors
When the temperatures reach minus levels, it's very common for car doors to freeze. You can prevent them freezing overnight by spraying a little cooking oil spray where the door seals. This acts as a 'waterproof' spray and stops water from getting in and freezing up.
Prepare a winter emergency kit
We recommend having an emergency roadside kit in your car at all times and in the winter it's important to have a few essential items that can keep you safe in cold weather. Winter essentials to have in your car can include a folding shovel, ice-scraper, de-icer, jump start cables, thermal blanket, first aid kit and head torch.
Wrap up warm
Whatever you're doing this winter, make sure you're always prepared for any weather. In the event of an accident or long traffic delays, you could be waiting a while in the cold. Always dress appropriately for the weather and wrap up warm. As mentioned, you can also keep a blanket, winter coat or instant hand warmers in your winter emergency kit.
Clean your headlights with toothpaste
Your headlights are really important all year round, but you'll use them more in the winter. Check all your lights are working and then give them a little clean before the winter weather sets in. One of the best DIY ways to clean them is to cover them in a thin layer of toothpaste, let it sit for a couple of minutes and then rinse off with warm water.
Use a 20p coin to check your tyres
Your tyre tread is crucial in the snow and ice as it increase traction on slippery surfaces. To check your tyre tread depth, you can use a 20p coin. Take a 20p coin and insert it into the tread grooves in the tyre. If you can't see the outer band on the coin, your tyres are above the legal limit. If you can see the band and that section of the coin is still visible, your tyres could be unsafe.
Keep cat litter in your car
Cat litter can actually have a couple of useful purposes during the winter months. To prevent foggy windows, put some cat litter in a couple of old socks, tie the ends and put them on your dashboard overnight. The cat little draws in moisture and prevents your windscreen from becoming foggy. Cat litter can also be used if your tyres are stuck in heavy snow. Sprinkling cat little on the ground can provide great traction on slippery surfaces.
Use vinegar for de-icer
Ever woken up to a frozen windscreen and had no de-icer to hand? Not to worry! A safe and easy way to de-ice your windscreen is to use a mixture of water and vinegar. Use 3 parts vinegar to 1 parts water in a spray bottle and spray onto the windscreen. If you don't have a spray bottle you can pour the mixture straight onto the windscreen, starting from the top. Apply to the windscreen 1-5 minutes before leaving and then the ice should scrape straight off.
Use a credit card as an ice scraper
If you don't have an ice scraper there are a few other ways in which you can clear your windscreen. A credit card or even a plastic spatula can be used as a DIY ice scraper. Don't use anything metal or glass as you could scrape your paint and windows.