Summer is well and truly here in the UK! With some temperatures already passing 30 degrees in parts of the UK, you may be wondering how the weather affects your car. Do you know how you keep are car in good condition and drive safely in the summer?
Let's find out with our summer driving tips…
With more drivers opting for a UK summer road trip this year, it's good to know how you can prepare for a long journey in the heat. one of our best summer driving tips is to check all your fluid in the car such as screen wash, oil levels, water levels, and engine coolants. You should also check your windscreen wiper blades and make sure all your lights are working too.
Find out more – Most common car checks you can do at home. 
A tyre blowout is more likely to happen in the summer months and if they already have existing damage. Spend some time checking your tyres are in good condition and make sure your tyre pressure is at its optimum level. You can find your tyre pressure in the owner's manual of your car or on the inside of your doorframe. 
3. Always have a pair of sunglasses to hand
Another one of our great summer driving tips is to pop a pair of sunglasses in your glove box. Glare from the summer sun can cause many accidents on the road. Make sure you're well prepared with a clean windscreen, use your overhead sun visors, and have a pair of sunglasses to hand.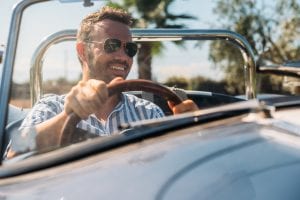 3. Keep your car cool in the shade
There's nothing more annoying than getting into a swelting hot car on a sunny day. It can affect how you drive and make for an altogether uncomfortable experience. If you can, you should try to park in the shade of a tree or in a garage overnight. If not you can allow a few minutes before you set off for your air-con to kick in or open your windows. 
5. Don't let hayfever affect your driving
Hayfever can cause symptoms such as sneezing, watery eyes, itchy throat and nose, and cough which can all impact your driving. Some allergy tablets can cause drowsiness, blurred vision, and dizziness so you should always read the label properly before taking any medication and getting behind the wheel. You can reduce hayfever symptoms by closing your windows and air vents, keeping tissues close by, and cleaning your car regularly to get rid of dust and pollen.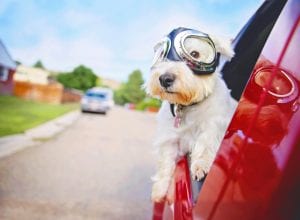 6. Never leave your dog behind
Dogs die in hot cars, it's as simple as that and it should never be risked. Dog owners can be charged with an offence of animal cruelty under the Animal Welfare Act 2006 if a dog becomes ill or dies in a hot car. You should never leave an animal in a car or any vehicle on a hot day. If you need to travel with your dog in the car, you should keep all windows open, use a cooling mat, take plenty of breaks and give them cold water.
7. Get a lift to the beer garden
Many people enjoy the summer weather by popping into a beer garden on a nice day. However, summer drink driving becomes a problem each year. There's no rule for how many drinks you can have and still drive as it affects each person differently. This means if you are driving, you should avoid having an alcoholic drink. Not only does it endanger yourself, your passengers, and other road users but it can also result in fines, drink driving penalties, and even imprisonment.
8. Prepare a summer emergency kit
If you're off on your holidays and your car is jam-packed, you may be tempted to free up some space by ditching your emergency roadside kit. But this isn't a good idea!
You should always carry an emergency kit that includes:
First aid kit
Water
Sun cream
Snacks
Hazard triangle
Phone charger
Jump leads
Map
Sunglasses
Pen and paper
Find out what to do if your car breaks down. 
One of our general summer driving tips is that you should always plan your journey before you set off. Check the predicted traffic and the weather for the day and pop your journey into a route planner or satnav to get traffic updates and quicker routes on weekends and busy bank holidays. Driving when you're annoyed or impatient can lead to poor decisions on the road so it's important to plan ahead and make your journey as smooth as possible.