Last week the United Kingdom voted in one of the most historic referendums on whether to remain a member of the European Union, or leave and give it a go on our own. With the Leave camp leading the poll by 51.9% compared with Remain, who finished on 48.1%, the UK firmly Brexited.
So what happens next? The UK has without a doubt been plunged into a period of uncertainty and this has also affected the auto industry. Many industry leading car manufacturers such as Toyota, BMW, Nissan and Land Rover publicly declared they backed the remain campaign, as they warned there could be a drop in Sales and Production if trade and labour agreements are not negotiated with the European Union. One of the main concerns is that Britain's biggest export to the EU is automotive parts and auto parts are exempt from the World Trade Organisation accords.
There has been doubt about what exactly will happen after Brexit; so far the pound has plummeted to the lowest it has been since 1985 but the public have been assured that there will be no drastic changes as the UK will most likely not part ways with the EU for another two years at least. Article 50 of the Treaty on the Functioning of the European Union provides a two year withdrawal period, and the current UK government must trigger it to begin the process.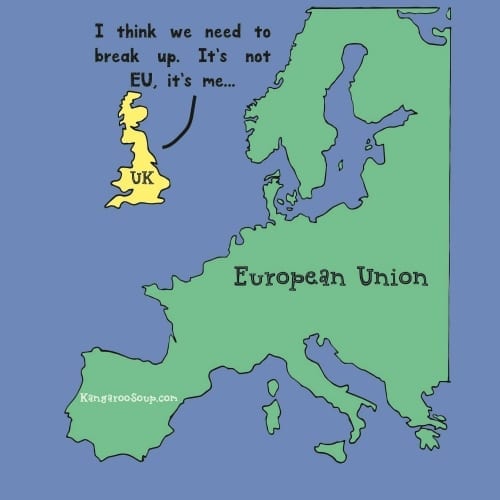 Source: https://onsizzle.com/i/i-think-we-need-to-break-up-its-not-eu-1034994
Changes in the short term could mean petrol and diesel prices go up due to the falling pound. There have also been concerns that buying a new car could be expensive for a short while afterwards; car dealers have made it clear that for their market to be successful there must be stability.
Some of the long term consequences could include changing the design of the UK driving licence as it currently has the European Union symbol on it. This is most likely to be phased in gradually after the UK has negotiated with the EU. Driving abroad will most likely become more expensive and possibly more hassle due to more restrictions between each border country.
Car Insurance could cost less as currently insurance policies have to meet several EU criteria but again, immediate changes are unlikely to be seen. For driving abroad, the EU Motor Insurance Directive currently offers protection if you have an accident overseas, as it makes insurance valid in all European countries. It does this by ensuring car have a minimum of third party insurance. It could mean in the future that we may have to take out extra insurance cover when planning to drive abroad.
The Financial Conduct Authority have said that many of the regulations that bind finance deals in the UK are derived from EU legislation which will remain in place until negotiations have been made and any changes implemented.